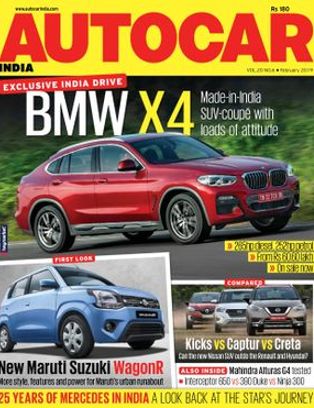 Auto Car Magazine
$20.95 – $248.95
Auto Car February Friday 01 2019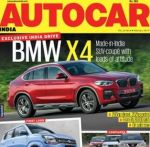 Half four-door coupe, half-SUV – the BMW X4 aims to follow in the footsteps of its successful bigger sibling, the X6. Just how good is it? We bring you an exclusive India review. In every department, the new-gen Maruti Suzuki Wagon R has grown up – be it in terms of size, features or engines. We take a close look. Is the Nissan Kicks good enough to beat the reigning midsize SUV champion, the Hyundai Creta? Throw the Renault Captur into the picture, and things become real interesting… We put the Mahindra Alturas G4 through our comprehensive road test, to see just how well it fares in real-world conditions. We wind back the clock as Mercedes-Benz completes 25 years in India. It's more than just a tougher-looking Bonneville – the Triumph Scrambler 1200 is a thrill-a-minute bike. Also part of this issue are a drive of the Jaguar F-Pace 25t petrol and a face-off between the Royal Enfield Interceptor 650, KTM 390 Duke and the Kawasaki Ninja 300! Subscription Now
Auto Car January Tuesday 01 2019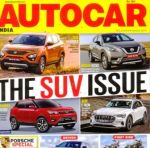 THE SUV ISSUE, TATA HARRIER, NISSAN KICKS, AUDI E-TRON, PORSCHE Special, New BMW 3-Series, First Ride JAWA & JAWA FORTY TWO Subscription Now
Auto Car December Saturday 01 2018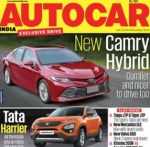 The next-gen Toyota Camry Hybrid is India-bound in 2019 and promises to be a real improvement over its predecessor. We drive the JTP versions of the Tata Tiago hatchback and Tigor compact sedan to find out if these are the affordable performance cars India has been waiting for. It's bigger and feels more upmarket on the inside, but is the second-gen Maruti Suzuki Ertiga good enough to defend its territory? We find out.
The Hyundai Santro has made a comeback, and it has got all-new rivals to take on – the Tata Tiago, Datsun Go and Maruti WagonR. We pick a winner. The all-new Mercedes-Benz GLE is more luxurious and feature-rich than before, and even has a seven-seat option. We drive it to see just how much of an improvement it is. Additionally, this issue also features our first drive of the Mahindra Alturas G4, the new Volvo S60, BMW i3s, and a comparo between the Hero Xtreme 200R and the TVS Apache RTR 160 4V. Find all this and more news, reviews and features in the December 2018 issue of Autocar India. Subscription Now
Auto Car November Thursday 01 2018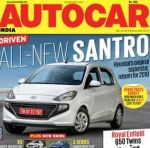 The car that started Hyundai India's innings is back completely revamped. Can the new Santro rekindle the magic of the beloved original? Mercedes-AMG's iconic SUV, the G 63, in a whole new avatar. But does it still retain its phenomenal desirability quotient? It's an auto-rickshaw… it's a car… no, it's India's first quadricycle. We get behind the wheel of the controversial Bajaj Qute that is finally set to go on sale.
The new BMW X5 is bigger, bolder and far better equipped, too. We take it for a spin to see just how much of a step-up it is. The refreshed Ford Aspire comes with a new petrol-manual combo and a killer price tag. But in the company of the Maruti Suzuki Dzire and the Honda Amaze, is it the best in the segment? We find out. How much does your car really cost to fix? Every little detail you'd want about spare parts for different types of cars on sale in India is present in our exhaustive spare parts survey.
Additionally, this issue also features our first drive of the Datsun Go and Go+ facelifts, the Mercedes-Benz C-class facelift, the new Porsche Cayenne Turbo, and our reviews of the Royal Enfield Interceptor and Continental GT 650 and the Suzuki V-Strom 650XT. Find all this and more news, reviews and features in the November 2018 issue of Autocar India. Subscription Now
Auto Car October Monday 01 2018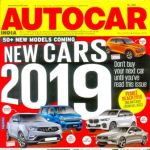 New Cars 2019 Looking to buy a new car? Hold on to that cheque, for the coming year will see the arrival of a number of new offerings – from hatchbacks and sedans to a slew of SUVs, and even some electric vehicles!, Mahindra Marazzo vs Maruti Suzuki Ertiga Can the promising Mahindra Marazzo make a case for the premium it demands over the popular, value-for-money Maruti Suzuki Ertiga? We find out, Lexus ES
The seventh-generation ES 300h petrol hybrid sedan looks sharper and feels plusher than before. We tell you what's it like to drive. Mercedes C-class facelift A midlife update for the popular luxury sedan adds modernity and a 245hp, BS VI-compliant diesel engine, New Jeep Wrangler We take on the famed Rubicon Trail in the United States in the India-bound 2018 Jeep Wrangler. How well will it fare?, Jaguar F-Type P300 Following the recent facelift, the Jaguar F-type now also gets a smaller, 2.0-litre, four-cylinder petrol engine. Can it still deliver a big punch?,
2018 Pebble Beach Concours It's that Sunday of the year when the golf carts at the Pebble Beach Golf Links in California give way to vehicles a whole lot more glamorous. We bring you the gorgeous cars on display at the 2018 Pebble Beach Concours d'Elegance, Kawasaki Ninja 300 The baby Ninja now gets ABS and a massive price cut, thanks to localisation. But does that mean a drop in quality levels? We investigate, Ducati Monster 821 The Monster 821 returns, this time, with some more goodies in store. Is that enough to keep it relevant?, TVS Ntorq SXR
A scooter with over 20hp and knobby off-road tyres must be a whole lot of fun, yes? Yes! We've tried out TVS' rally scooter and have plenty to say about it. Subscription Now
Auto Car September Saturday 01 2018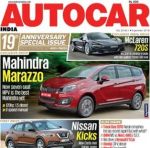 It has a new chassis, a new engine, a new gearbox and is built to new quality standards. But just how much of a step forward is Mahindra's all-new MPV, the Marazzo? We find out. The funky new Kicks that's headed to India in 2019 will be different from the version that's on sale in markets abroad, but we flew to Dubai to get a taste of what Nissan has cooked up. McLaren has its eyes set on the Indian market and is expected to arrive on our shores later this year, but we couldn't wait, so we borrowed a 720S – right here in India – for a quick spin to see just how good it is. Indian Navy fighter pilots have the best job in the world. They fly the MiG-29K, a carrier-based fighter that's nothing short of a demon in the air. But is it also as quick over the ground as say, a Lamborghini Huracan Performante? The two square off in a drag race for the ages. 15 of the best driver's cars in India, on India's best track, with India's best driver. Our report from the annual Autocar Track Day is one story you just can't miss! Additionally, this issue also features our first drive of the Mercedes-AMG S 63 Coupe facelift, 2018 Renault Kwid, Maruti Suzuki Ciaz facelift, the new Honda CR-V and an India exclusive review of the Kawasaki Ninja 400. Find all this and more news, reviews and features in the September 2018 issue of Autocar India. Subscription Now
Auto Car August Wednesday 01 2018
We know you're waiting for this one, so we've flown out to Indonesia to bring you a piping hot review of the all-new Maruti Suzuki Ertiga. We've also compared the Volvo XC40 and BMW X1 to give you the definitive verdict. All that seemingly separates the Mercedes-AMG GT R from the Nissan GT-R is a hyphen. In practice, however, we can assure you it's so much more than just that. We compare the two and find out just what each of them is all about. There's a new Mercedes-Benz E-class in town, but you'll be surprised to know it's a rugged, all-wheel drive estate. It's called the All-Terrain, and we've put it through its paces. Is the second-generation BMW X4 just a more stylish take on the X3, or is there more to this SUV-coupe? We bring you the answer. 11 quick cars. Two of our quickest drivers. A quarter mile stretch of tarmac. We recount the action from our high-octane drag race day. Additionally, this issue also features our first drive of the Mahindra TUV300 Plus, Renault Duster CVT, and our first taste of the long-awaited BMW G 310 R and G 310 GS twins. Find all this and more news, reviews and features in the August 2018 issue of Autocar India. Subscription Now
Auto Car July Sunday 01 2018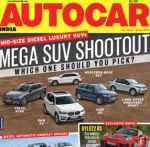 In a segment that is hotting up like never before, which midsize diesel luxury SUV should you pick? We compare the BMW X3, Audi Q5, Volvo XC60, Mercedes-Benz GLC and Land Rover Discovery Sport to bring you the definitive verdict. Three different gearboxes, three different takes on a diesel-automatic compact sedan: we pit the new Honda Amaze against the Maruti Suzuki Dzire and Volkswagen Ameo to see which one comes out on top. After a drive in the sleek and swift Stinger GT, we're convinced that it would make for a great halo model for Kia in India. Just when we got used to the idea of a Jaguar SUV, in comes an all-electric one in the form of the new I-Pace. We've sampled what is easily the most revolutionary Jaguar ever. The all-new Audi A6 looks like a scaled-down A8, and feels like one, too. And it's not solely about comfort this time around – the new A6 is more dynamic and engaging to drive as well. The GT2 RS is only the most powerful 911 ever built and only the fastest road car ever, and we got a chance to drive it as part of Porsche's 70th anniversary celebrations. Additionally, this issue also features our first drive of the Hyundai i20 CVT, Ford EcoSport S, and our first taste of the long-awaited Ather 450 electric scooter. Find all this and more news, reviews and features in the July 2018 issue of Autocar India. Subscription Now
Auto Car June Friday 01 2018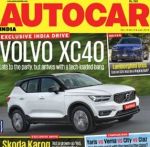 Does the XC40 – the smallest of the XCs – have what it takes to become the volume-getter for Volvo Cars? We bring you the definitive verdict. A new Skoda SUV will take up the place left vacant by the Yeti. Can the Karoq be as versatile and capable as its predecessor? We drive it abroad to answer your questions. Touted as a super-SUV, the 650hp Lamborghini Urus goes all out to show why it deserves to wear that Raging Bull badge on its nose. With the all-new Amaze, Honda is once again training its guns on the Maruti Dzire. We find out just how good it is. The sixth-generation, MQB platform-based Polo GTI is out. With fingers crossed about its India prospects, we head to Spain for a drive of this hot hatch. The Toyota Yaris is stepping into a segment occupied by heavy-hitters such as the Honda City, Hyundai Verna and Maruti Suzuki Ciaz. We pit them against each other to pick a winner. Additionally, this issue also features our first drive of the Maruti Vitara Brezza AMT, Mercedes-AMG E63 S 4Matic+, and a comparo between the TVS Apache RTR 160 4V and Suzuki Gixxer SP. Find all this and more news, reviews and features in the June 2018 issue of Autocar India. Subscription Now
Auto Car May Tuesday 01 2018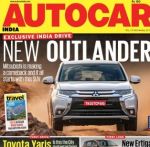 After going six long years without a new launch, Mitsubishi is set to launch the all-new Outlander in India soon. We find out if the seven-seat SUV can match up to its rival, the new seven-seat Honda CR-V, coming soon. The Yaris is Toyota's answer to the likes of the Honda City and Hyundai Verna. We drive the new mid-size sedan to see if it's a viable alternative. Just how much convenience does an automated manual transmission add to the Nexon? A review of AMT-equipped petrol and diesel models reveals all. We also come to grips with the Ferrari 488 Pista. It's an even more powerful, faster and focused 488. We also experience the best of the beast, that is the Mercedes-AMG GTR, in the dead of the night on the streets of Mumbai. Also in the issue are reviews of the Ford Freestyle petrol, Mahindra XUV500 facelift, Range Rover Sport and Jaguar F-type SVR, and we've also brought you all the info on the soon-to-launch second-gen Maruti Suzuki Ertiga. Two-wheelers your thing? Weve got you covered. The new TVS Ntorq takes on the Aprilia SR 125 and the Honda Grazia, while we help you choose between the Bajaj Avenger 180 and Suzuki Intruder 150. Subscription Now
Auto Car April Sunday 01 2018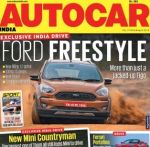 Ford's latest is a rugged little crossover. It may be based on the Figo hatchback, but as we found out, there's more to it than meets the eye. The new Countryman has a bit of a mountain to climb, considering it has to be more SUV and more Mini, all at the same time. We drive it to see if it can do that The Portofino replaces the California T as the entry point to Ferrari's range. We're hungry for more after a first taste of the new 600hp prancing horse, in Italy. Apart from the usual bevy of jaw-dropping supercars, the 2018 Geneva motor show established the fact that every carmaker has a vision for an electrified future. We have also driven the Mercedes-Benz S 450, pitted four Maruti Suzukis against each other and sampled the Yamaha R15 V3.0 and TVS Apache RTR 160 4V. This and more reviews, features and the latest news from the industry in our April 2018 issue. Subscription Now
Auto Car March Thursday 01 2018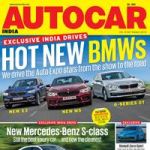 Description
Buy (Order online) Auto Car Monthly Magazine (Magasin) Now.
Auto Car Monthly Magazine February, 2019 Issue: Half four-door coupe, half-SUV – the BMW X4 aims to follow in the footsteps of its successful bigger sibling, the X6. Just how good is it? We bring you an exclusive India review. In every department, the new-gen Maruti Suzuki Wagon R has grown up – be it in terms of size, features or engines. We take a close look. Is the Nissan Kicks good enough to beat the reigning midsize SUV champion, the Hyundai Creta? Throw the Renault Captur into the picture, and things become real interesting… We put the Mahindra Alturas G4 through our comprehensive road test, to see just how well it fares in real-world conditions. We wind back the clock as Mercedes-Benz completes 25 years in India. It's more than just a tougher-looking Bonneville – the Triumph Scrambler 1200 is a thrill-a-minute bike. Also part of this issue are a drive of the Jaguar F-Pace 25t petrol and a face-off between the Royal Enfield Interceptor 650, KTM 390 Duke and the Kawasaki Ninja 300!
The exciting world of cars, brought alive in Auto car India's engaging stories and features, has made it a 'must-read' magazine for anyone interested in cars. Autocar India's exhaustive and authoritative road tests, true to the heritage of its parent title, are the best in the business. Over the years, Autocar India has grown from being just a car magazine to a comprehensive 'car expert' brand. Autocar India is, by far, India's best-selling car magazine with a readership that is more than double its nearest rival. But it's not numbers alone that make Autocar India the country's best car magazine. Since its first issue back in September 1999, it has regularly been the first with the news and has earned an enviable reputation for breaking stories before any other media.
Auto Car Monthly Magazine prices are inclusive of shipping and handling through USPS. (for US deliveries). For other Countries shipping will be handled through their Postal Services (like Airmail in India). Address for delivery (Subscription) can be changed anytime. Please mail us the changed address details to info@magazinesemporium.com.
Auto Car Monthly Magazine subscriptions will commence either from current issue or from next coming issue. Auto Car Monthly Magazine English Magazine will be shipped immediately on getting the issues from the publisher. They are inclusive of Diwali and Annual issues. Any special issues will also be sent free.
Subscribe weekly/monthly/yearly magazines - We ship to USA [ United States ], Alabama AL , Alaska AK , Arizona AZ , Arkansas AR , California CA , Colorado Co , Connecticut CT , Delaware DE , Florida FL , Georgia GA , Hawaii HI , Idaho ID , Illinois IL , Indiana IN , Iowa IA , Kansas KS , Kentucky KY , Louisiana LA , Maine ME , Maryland MD , Massachusetts MA , Michigan MI , Minnesota MN , Mississippi MS , Missouri MO , Montana MT , Nebraska NE , Nevada NV , New Hampshire NH , New Jersey NY , New Mexico NM , New York NY , North Carolina NC , North Dakota ND , Ohio OH , Oklahoma OK , Oregon OR , Pennsylvania PA , Rhode Island RI , South Carolina SC , South Dakota SD , Tennessee TN , Texas TX, Utah UT , Vermont VT , Virginia VA , Washington WA , West Virginia WV , Wisconsin WI , Wyoming WY
Australia [ AU ], Austria, Bahrain, Bangladesh, Barbados, Belarus, Bermuda, Bhutan, Botswana, Brunei Darussalam, Bulgaria, Cayman Islands, Cambodia, China [ CN ], Cyprus, Egypt, Eritrea, Estonia, Ethiopia, Fiji, France [ FR ], Georgia, Germany, Ghana, Greece [ GR ], Hong Kong, Hungary, Iceland, Ireland, Italy [ IT ], Japan, Jordan, Kenya, Latvia, Macao ( China )
Malaysia, Mauritius, Malawi, Mongolia, Morocco, Namibia, Nauru, Nepal, Netherlands [ NL ], New Zealand [ NZ ], Oman, Philippines, Poland, Portugal, Qatar, Romania, Russia, Senegal, Singapore [ SG ], South Africa, Spain, Switzerland, Taiwan, Tanzania, Thailand, Turkey, United Arab Emirates [ UAE ], Ukraine, United Kingdom [ UK]