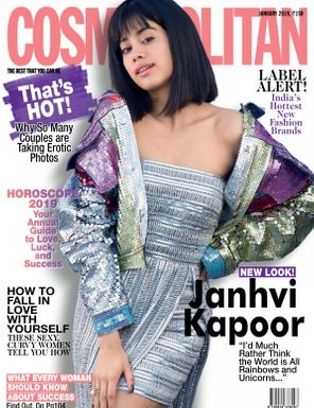 Cosmopolitan Magazine
$20.95 – $251.45
Cosmopolitan January Tuesday 01 2019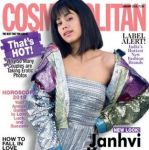 Welcome to our new year special! Cover girl Janhvi Kapoor gets candid about everything from Nepotism to life after Dhadak and more—all in an avatar we bet you've never seen her before in! Also, as we move into 2019, we have a ton of fashion and beauty inspo for you, including the labels that are on Cosmo Ed Nandini Bhalla's radar, different ways to incorporate white into your wardrobe, and how to play with colours while doing your make-up. Plus, body-positive bloggers and influencers talk about breaking stereotypes, how to be that hot and heavy couple, the new bedroom trend of erotic photoshoots that millennials are trying, and more. Subscription Now
Cosmopolitan December Saturday 01 2018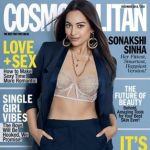 Love +sex How to make sexy time more Romantic, Single Girl Vibes The Boys will be Hooked, we promise!, The Bold conversations you need to have at work, Sonakshi Sinha her fittest, smartest, happiest version!, The future of beauty behold, amazing tools for your best skin ever!, It's show time outfits and accessories that will get you noticed Subscription Now
Cosmopolitan November Thursday 01 2018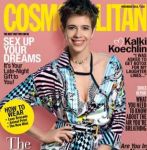 Welcome to our big beauty special! Covergirl Kalki Koechlin gets candid with Cosmo about the unrealistic beauty standards in showbiz and how she was asked to get Botox for her laughter lines, among other things. Along with that, we have a world of make-up and skincare inspo for you… Starting with the trending colours of the season and how you can work 'em both in your OOTD and MOTD (read: make-up of the day).
Plus, we shot with some of the coolest men in the country, who've dared to go beyond the 'moisturiser routine' and embrace make-up, celebrities and influencers on the products they use till the very last drop, how to conjure up a super-sexy sex dream, the new relationship crisis millennials are facing, and more. Subscription Now
Cosmopolitan October Monday 01 2018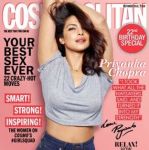 This year, Cosmo India turns 22, and their anniversary celebrations include a special focus on sisterhood. "At Cosmopolitan India, we believe—strongly, firmly, wholeheartedly—that women should support and promote other women," says Cosmo India Editor, Nandini Bhalla. "It's time to change the narrative that women are each other's worst enemies; because when women join hands to become allies, they can influence change and empower each other for a better future."
The Cosmo India 22nd Anniversary issue features a long list of formidable women, who speak about and encourage the spirit (and power) of sisterhood. Taking the lead are three covergirls: global icon Priyanka Chopra, poet and best-selling author Rupi Kaur, and YouTube superstar Lilly Singh. In her interview, Priyanka Chopra talks about how she accomplished her goals, despite being told by some that she wouldn't. Author Rupi Kaur writes an open letter to young women who grapple with insecurities, and don't think they're pretty enough. In her letter, Rupi discusses her own struggles with the idea of what's 'beautiful', while growing up. YouTube Lilly Singh, in her open letter, urges women to not let the fear of failure get in the way of their dreams.
There's more in this issue, including a very special feature with 31 inspiring women from different walks of life, who echo the same sentiment—that women supporting women is the only way forward. Voices and names include Shobhaa De, Anupama Chopra, Ira Dubey, Adwaita Nayar, Mallika Dua, Shikha Talsania, and more, who share their stories and experiences to help highlight how by empowering women, we can empower the entire community. Plus, what drag queens can teach us about feminism, why every woman needs a 'work wife', the biggest fashion and beauty trends of the moment, and much more. PS: the 22nd Anniversary issue also comes with a bonus Cosmo Man issue, starring the latest toast of Bollywood, Ishaan Khatter. Subscription Now
Cosmopolitan September Saturday 01 2018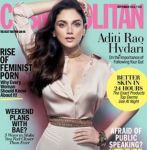 Welcome to our Accessories Special. We have a tonne of inspo waiting for you inside our September issue—starting with the coolest trends of the moment to the jewellery designers you need to watch out for, how to layer multiple accessories like a #bawse and more. Plus, covergirl Aditi Rao Hydari reveals her fierce and fiercely feminine side in a brutally honest interview. More inside: top derms spill the beans on their nightly regime that gives them flawless skin in the AM, the fittest city on Earth, why feminist porn is changing the game, and the vegan crusaders you need to know. Subscription Now
Cosmopolitan August Wednesday 01 2018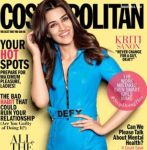 Welcome to the New Season Issue. We've curated the most-coveted trends of AW 18/19 to give your closet a much-needed reboot. Along with the latest style steals, this issue features some of the most stylish women in the country to share their favourite shade of pink lipstick, the exact way French girls shop beauty, wicked wicker bags that will up your #OOTD game, and more. And we have a very special feature on mental health, where brave celebrities like Richa Chadha, Deepika Padukone, Sarah Jane Dias among others share how they conquered different mental disorders to tackle the stigma around the topic. What's more? If you flip the issue, you'll find a Bonus Beauty section that'll solve all beauty woes. From the hottest hairstyles to gorgeous make-up trends, scents for all your moods and concealers that can help you fake well-rested eyes, we've covered it all. Subscription Now
Cosmopolitan July Sunday 01 2018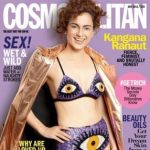 Highlights of the Cosmopolitan July 2018 issue:- Welcome to the July issue that packs in double delight—the regular issue + a Fitness Special—featuring the Queen of Bollywood: Kangana Ranaut. The stunning actor gets candid with Cosmo and discusses her life choices, love, why the girl tribe needs to stick together, and more. It's the last of SS18, and we've got a tonne of style and beauty inspo for you, including prints, colours, baubles, athleisure and much more. Plus, 10 fitness experts reveal the rules they swear by, how to make sure shower sex doesn't end up in the ER, the new relationship epidemic hitting happy couple, and easy tips that'll make you stop hating on your job. Subscription Now
Cosmopolitan June Friday 01 2018
Welcome to our Denim special. If you're an eternal blue-jean baby, then you'll love flipping through the June issue. From the most-coveted denim pieces of SS18 to real girls working the this-season essentials, the best pairs of jeans for every body type and more, this issue is full of style inspo that'll keep your OOTD on fleek all year round. Our covergirl, Jacqueline Fernandez, sheds light on the flipside of being a celebrity and what she really thinks of social media Plus, we've put together the tips and tricks to nailing the casual dating (and sex) scene, the one hack that'll save you from falling for Mr Jerk, the latest in K-Beauty, and one secret fund that can save you a world of agony. Subscription Now
Cosmopolitan May Tuesday 01 2018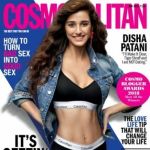 Cosmo India's May issue is packed with summer essentials that you need in your life right now—right from the best sartorial picks to keep your wardrobe #OnFleek to the beauty must-haves recommended by the jet-setting women in the country. Catch our hot-AF covergirl Disha Patani set the the record straight on many thing, including the rumours about Disha dating her Baaghi co-star tiger Shroff. Plus a dozen tips to make your life better right this minute—like how to wear sweatpants like a celebrity, the before-and-after diet trap on social media, how to avoid bad sex forever, build a new squad, among many others. Subscription Now
Cosmopolitan April Sunday 01 2018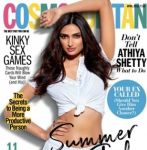 Cosmopolitan April 2018 issue:- Our Summer Special features Athiya Shetty on the cover. The Bollywood actor talks about her foray into films, finding her own space in the industry, and the causes she feels strongly about. Plus, eight multi-tasking women spill the deets on how they stay super-productive and 13 real women serve up their life's motto through the season's biggest beauty trend. Bonus: we show you how to mix 'n' match sports basics with couture classics, how to style '90s trends the this-season way, the most-trending accessories of the moment, the coolest hue for SS18, and more. Subscription Now
Cosmopolitan March Thursday 01 2018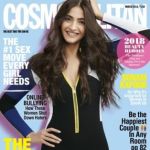 Sonam Kapoor talk about female friendships, causes close to her heart, and more. The bonus cover features Sophia, the world's most advanced humanoid, where she discusses boyfriends, what being a Saudi Arabian citizen means to her, and her future plans…decked in finest Indian couture. Plus, 12 fabulous women share their bare-faced selfies to nix unrealistic standards of beauty, why it's important to talk about 'that time of the month', how to start your own online business, the go-to sex move every successful girl needs in her life RN Subscription Now
Description
Buy (Order online) Cosmopolitan Monthly Magazine (Magasin) Now.
Highlights of the Cosmopolitan January 2019 issue:- Welcome to our new year special! Cover girl Janhvi Kapoor gets candid about everything from Nepotism to life after Dhadak and more—all in an avatar we bet you've never seen her before in! Also, as we move into 2019, we have a ton of fashion and beauty inspo for you, including the labels that are on Cosmo Ed Nandini Bhalla's radar, different ways to incorporate white into your wardrobe, and how to play with colours while doing your make-up. Plus, body-positive bloggers and influences talk about breaking stereotypes, how to be that hot and heavy couple, the new bedroom trend of erotic photoshoots that millennials are trying, and more.
Cosmopolitan isn't just a magazine, it's a religion. Now in its 17th year in India, Cosmopolitan is the world's largest selling magazine, with 200 million readers annually in a 100 countries. It is published in over 26 languages, but at its core, it speaks only one – that of fun fearless females globally. Another language it speaks? That of stupendous success! Each month magazine features some of the biggest celebrity names on its cover; it has launched the glamour careers of more gorgeous girls than we can count. Top Indian actresses, models and singers have been on the cover of Cosmopolitan before the rest of the world recognised their spark-because we know a fun fearless female when we see one! When we put someone on the Cosmopolitan cover, we acknowledge her right to be counted among the best in the business. Love, sex, relationships and men are at the heart of Cosmopolitan, but there's also style and beauty, health and fitness, work and leisure, celebrity and entertainment. Perhaps most unique is the way in which Cosmopolitan blends glamorous and gutsy, intimate and open-minded. It brings women across the world in countries as diverse as Finland, South Africa and India, together on a common platform. Cosmopolitan is about celebrating women; it supports, encourages, entertains, amuses, inspires and uplifts-helping its readers be the very best that they can be. For a girl who thinks of herself as fun and fearless, there's simply no other magazine.
Cosmopolitan Monthly Magazine prices are inclusive of shipping and handling through USPS. (for US deliveries). For other Countries shipping will be handled through their Postal Services (like Airmail in India). Address for delivery (Subscription) can be changed anytime. Please mail us the changed address details to info@magazinesemporium.com.
Cosmopolitan Monthly Magazine subscriptions will commence either from current issue or from next coming issue. The Monthly English Magazine will be shipped immediately on getting the issues from the publisher. They are inclusive of Diwali and Annual issues. Any special issues will also be sent free.
Subscribe weekly/monthly/yearly magazines - We ship to USA [ United States ], Alabama AL , Alaska AK , Arizona AZ , Arkansas AR , California CA , Colorado Co , Connecticut CT , Delaware DE , Florida FL , Georgia GA , Hawaii HI , Idaho ID , Illinois IL , Indiana IN , Iowa IA , Kansas KS , Kentucky KY , Louisiana LA , Maine ME , Maryland MD , Massachusetts MA , Michigan MI , Minnesota MN , Mississippi MS , Missouri MO , Montana MT , Nebraska NE , Nevada NV , New Hampshire NH , New Jersey NY , New Mexico NM , New York NY , North Carolina NC , North Dakota ND , Ohio OH , Oklahoma OK , Oregon OR , Pennsylvania PA , Rhode Island RI , South Carolina SC , South Dakota SD , Tennessee TN , Texas TX, Utah UT , Vermont VT , Virginia VA , Washington WA , West Virginia WV , Wisconsin WI , Wyoming WY
Australia [ AU ], Austria, Bahrain, Bangladesh, Barbados, Belarus, Bermuda, Bhutan, Botswana, Brunei Darussalam, Bulgaria, Cayman Islands, Cambodia, China [ CN ], Cyprus, Egypt, Eritrea, Estonia, Ethiopia, Fiji, France [ FR ], Georgia, Germany, Ghana, Greece [ GR ], Hong Kong, Hungary, Iceland, Ireland, Italy [ IT ], Japan, Jordan, Kenya, Latvia, Macao ( China )
Malaysia, Mauritius, Malawi, Mongolia, Morocco, Namibia, Nauru, Nepal, Netherlands [ NL ], New Zealand [ NZ ], Oman, Philippines, Poland, Portugal, Qatar, Romania, Russia, Senegal, Singapore [ SG ], South Africa, Spain, Switzerland, Taiwan, Tanzania, Thailand, Turkey, United Arab Emirates [ UAE ], Ukraine, United Kingdom [ UK]