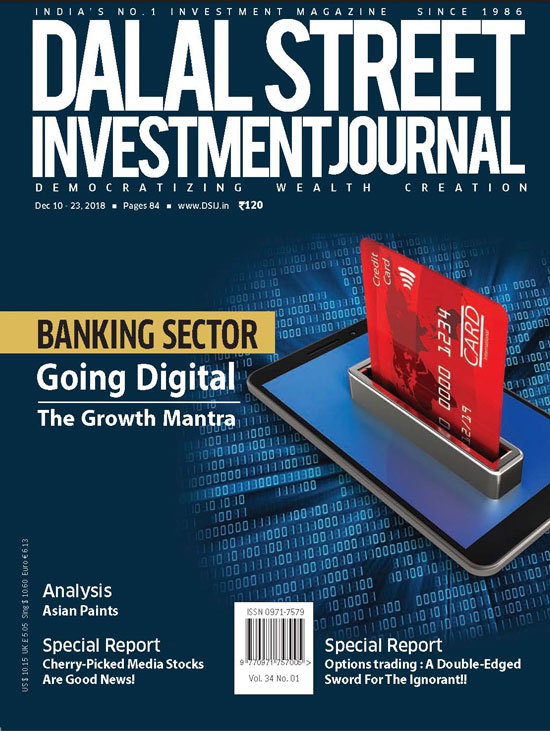 Dalal Street Magazine
$7.95 – $169.45
Dalal Street December Monday 10 2018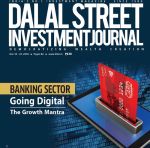 Banking Sector Going Digital The Growth Mantra, Analysis Asian Paints, Special Report Cherry-Picked Media Stocks Are Good news!, Special Report Options trading: A Double-Edged Sword for the Ignorant, Positive Developments May Make Markets Less Volatile!, Markets To Remain Stable Ahead Of State Election Results, ULIP VS Mutual Funds, MF – Databank Subscription Now
Dalal Street December Tuesday 25 2018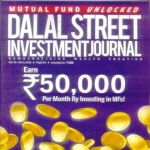 Dalal Street November Monday 12 2018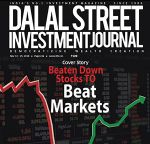 Beating The Markets With Beaten Down Stocks!, Investors are often seen averaging stocks that are beaten down, hoping to see recovery in the prices of these stocks. Yogesh Supekar, along with Shohini Nath, explore the price behaviour of beaten down stocks and recommend building a portfolio with these beaten down stocks, rather than investing in any single stock that is battered down heavily. Subscription Now
Dalal Street October Monday 29 2018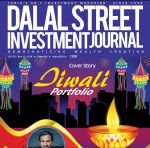 Diwali Portfolio : Exclusive interview with Saif Ali Khan, special report cement sector: bridging the gap between demand and capacity Utilisation, analysis Pidilite Industries, Global factors coupled with upcoming elections back home are pushing up volatality for the Indian markets. Yogesh Supekar and Shohini Nath explore how the markets have performed from previous Diwali to this Diwali, while the DSIJ research team shares the top picks for this Diwali. Subscription Now
Dalal Street October Monday 15 2018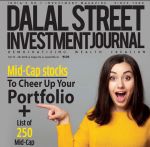 Mid-Cap Stocks To Cheer Up Your Portfolio, Equities have taken a beating recently. Indian volatility index (VIX) is noticeably up, while the mid-caps are lying low with already approx. 20 per cent correction. In such a scenario, should one buy mid-cap stocks? Dnyanada Kulkarni along with Yogesh Supekar discuss the outlook on mid-cap stocks, while the DSIJ research team shares its top 4 mid-cap picks for the season. Subscription Now
Dalal Street October Monday 01 2018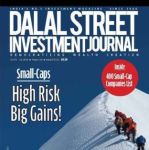 Small caps high-risk big gains, Special report do stock markets care about news?, Analysis alermbic pharmaceutical: the right prescription for portfolio health, Inside 400 small cap companies list Subscription Now
Dalal Street September Monday 17 2018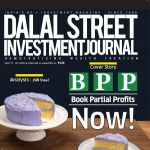 Book Partial Profits Now!, Insure Your Portfolio With Life Insurance Stocks! Insurance sector in India is poised to grow in the coming years, The Shopping Cart Is Not Even Half-Full For The Retail Sector! The India consumption story is best reflected in the retail sector's growth Subscription Now
Dalal Street September Monday 03 2018

How to catch a falling knife Subscription Now
Dalal Street August Monday 20 2018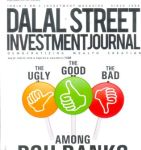 Among PSU Banks It has been a challenging market environment for equity investors in CY18 so far, in spite of the indices doing well and inching up by 11 per cent on a YTD basis Subscription Now
Dalal Street August Monday 06 2018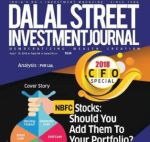 CFO Special 2018 Cover Story : NBFC Stocks:Should You Add Them To Your Portfolio? Analysis:PVR Ltd Showcasing Blockbuster Performance Cover Story:Building A Winning Portfolio Special Report: Are International Funds Being good For Current Market Enviornment Special Report: Robo-Advisory ,The Way Forward Subscription Now
Dalal Street July Monday 23 2018

Cover story: Underperforming stocks: What should you do with them? Special Report :Good Times Ahead For The Real Estate Sector? Special Report:Falling Rupee: Boon Or Bane For Export-Oriented Stocks? Analysis : Shriram Transport Finance CompanySTFC: On The Road To Destination Growth Cover story: Is It A Good Time To Invest In Mutual Funds Special Report :Selecting The Right DEBT Mutual Fund Special Report: Using Technical Analysis To Time Mutual Fund Buying Subscription Now
Dalal Street July Tuesday 10 2018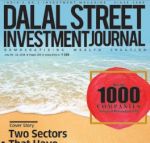 Have Textile And Cement Stocks Bottomed Out? Special Report :Pharma stocks: Medicine For Your Portfolio!! Special Supplement: Top 1000 Company Cover story: Balanced Advantage Mutual Funds Risk VS Returns Special Report :Small And Mid-Cap Funds:Should You Invest In Them Now Cover Story :Balanced Advantage Mutual Funds Risk VS Returns Subscription Now
Dalal Street June Monday 25 2018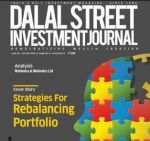 Cover story: Strategies For Rebalancing Portfolio Analysis: Mahindra & Mahindra Ltd (M&M) Hitting The Accelerator To Speed Ahead Special Report :Invest In Quality Defensives To Beat The Markets In Volatile Times! Special Report:DSIJ Stock Recommendations Cover Story :Closed Ended Mutual Funds: Should You Invest In Them Now Special Report: ETF: The Innovative Financial Product Special Report: The Pareto Principle And MF Investing Subscription Now
Dalal Street June Monday 11 2018
Understanding the earnings trend is tantamount to deciphering the market trend. Tanay Loya along with Yogesh Supekar demystify the Q4FY18 results, while the DSIJ Research Team focuses on the sectoral performance in the latest quarter Subscription Now
Dalal Street May Monday 28 2018

Bonus issue: Does It Create Wealth For You? Special Report: Bank on Debt-free stock for higher returns, IPOs: Market Rally Required to boost the numbers in 2018 Subscription Now
Description
Buy (Order online) Dalal Street Fortnightly Magazine (Magasin) Now.
Dalal Street Fortnightly Magazine prices are inclusive of shipping and handling through USPS. (for US deliveries). For other Countries shipping will be handled through their Postal Services (like Airmail in India). Address for delivery (Subscription) can be changed anytime. Please mail us the changed address details to info@magazinesemporium.com.
Dalal Street Fortnightly Magazine Dec 10 -23, 2018 Cover story: Banking Sector Going Digital The Growth Mantra, Analysis Asian Paints, Special Report Cherry-Picked Media Stocks Are Good news!, Special Report Options trading: A Double-Edged Sword for the Ignorant, Positive Developments May Make Markets Less Volatile!, Markets To Remain Stable Ahead Of State Election Results, ULIP VS Mutual Funds, MF – Databank
Thirty one-years old but conventional, Dalal Street Investment Journal (DSIJ), India's No 1 equity research and capital investment magazine is published every fortnight to cater to the needs of its reader-investors. Armed with a set of chosen experts on markets and corporate India, the fortnightly magazine has its focus on stock market research and recommendations, capital market analysis, personal finance investment advice and also analysis of various economic activities in the country along with its impact on Indian share markets. This is the one and only complete resource guide for a wide loyal base of over 8 lakh HNI readers.
The Fortnightly Magazine subscriptions will commence either from current issue or from next coming issue. Dalal Street Investment Journal Fortnightly English Magazine will be shipped immediately on getting the issues from the publisher. They are inclusive of Diwali and Annual issues. Any special issues will also be sent free.
Subscribe weekly/monthly/yearly magazines - We ship to USA [ United States ], Alabama AL , Alaska AK , Arizona AZ , Arkansas AR , California CA , Colorado Co , Connecticut CT , Delaware DE , Florida FL , Georgia GA , Hawaii HI , Idaho ID , Illinois IL , Indiana IN , Iowa IA , Kansas KS , Kentucky KY , Louisiana LA , Maine ME , Maryland MD , Massachusetts MA , Michigan MI , Minnesota MN , Mississippi MS , Missouri MO , Montana MT , Nebraska NE , Nevada NV , New Hampshire NH , New Jersey NY , New Mexico NM , New York NY , North Carolina NC , North Dakota ND , Ohio OH , Oklahoma OK , Oregon OR , Pennsylvania PA , Rhode Island RI , South Carolina SC , South Dakota SD , Tennessee TN , Texas TX, Utah UT , Vermont VT , Virginia VA , Washington WA , West Virginia WV , Wisconsin WI , Wyoming WY
Australia [ AU ], Austria, Bahrain, Bangladesh, Barbados, Belarus, Bermuda, Bhutan, Botswana, Brunei Darussalam, Bulgaria, Cayman Islands, Cambodia, China [ CN ], Cyprus, Egypt, Eritrea, Estonia, Ethiopia, Fiji, France [ FR ], Georgia, Germany, Ghana, Greece [ GR ], Hong Kong, Hungary, Iceland, Ireland, Italy [ IT ], Japan, Jordan, Kenya, Latvia, Macao ( China )
Malaysia, Mauritius, Malawi, Mongolia, Morocco, Namibia, Nauru, Nepal, Netherlands [ NL ], New Zealand [ NZ ], Oman, Philippines, Poland, Portugal, Qatar, Romania, Russia, Senegal, Singapore [ SG ], South Africa, Spain, Switzerland, Taiwan, Tanzania, Thailand, Turkey, United Arab Emirates [ UAE ], Ukraine, United Kingdom [ UK]