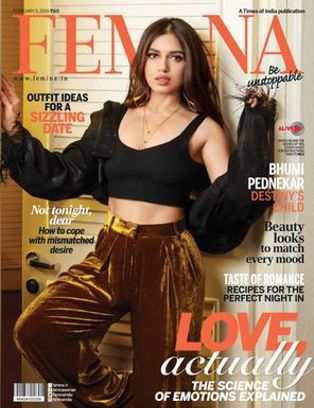 Femina English Magazine
$14.95 – $351.45
Femina February Saturday 09 2019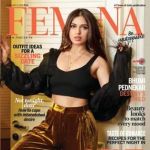 Outfit ideas for a sizzling date, Not Tonight, dear How to cope with mismatched desire, Bhumi Pednekar reveals how she is not an accidental actor, and how as a child, had always dreamt to be one. Catch the fun-filled conversation with Bhumi as she spills the beans on her film journey so far, unusual filmograpy, greatest indulgences, her take on love, and more. Beauty looks to match every mood, Taste of Romance Recipes for the Perfect Night IN, Love actually The Science of Emotions Explained Subscription Now
Femina January Thursday 24 2019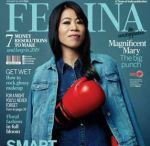 The latest issue of Femina features boxing champ Mary Kom. Catch the conversation as she talks about her boxing journey and things that make her the brilliant sportsperson she is. The big story is all about helping women reach their monetary goals in the new year. Our relationship experts tell you if you've got a man-child on your hands and how to deal with him, while our fashion edit will show you how to add garden prints to your wardrobe. The beauty pages will help you ace your appearance with gorgeous, glossy makeup looks you need to try this season. We also have some resolutions for you to keep in 2019 for a great financial year, and three Sindhi dishes that will make your mouth water. All this and much more in this whopper of an issue, so go grab your copy now! Subscription Now
Femina January Wednesday 09 2019

Femina's New Year issue features four amazing women who brought the country pride and glory at the 2018 Asian Games. Catch the conversation as sprinter Hima Das, wrestler Vinesh Phogat, hepthathlete Swapna Barman, and shooter Rahi Sarnobat talk about their journey at the games, their struggles, aspirations, and triumphs. Besides this fabulous feature, our relationship experts give you tips for an amazing, loved-up 2019, while the beauty feature shows you why 2019 is all about vibrant colour and energy. The fashion spread will help you upgrade your wardrobe with classy checks and sustainable fashion, while the food feature will have you drooling with its scrumptious appetisers. Subscription Now
Femina December Monday 24 2018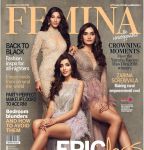 Epic Ideas for the ultimate end of year bash, Back to Black Fashion inspo for all-nighters, Finger Foods from around the world, Party Perfect makeup looks to ace RN!, Bedroom blunders and how to avoid them, Crowning Moments Meet the Yamaha Fascino Miss Deva 2018 winners, Zarina Screwvala Making rural empowerment cool Subscription Now
Femina December Sunday 09 2018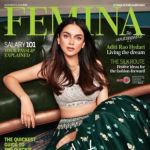 Salary 101 your payslip explained, The quickest guide to the quickie, Breaking bride looks to steal, Happy ending four couples prove that love conquers all. The stunning Aditi Rao Hydari adorns the cover of Femina's wedding issue, looking nothing short of a dream. If your big day is around the corner, check out our latest issue for ideas, tips, and lots of inspo! Subscription Now
Femina November Saturday 24 2018
Model-actor Nidhhi Agerwal stars on the latest cover of Femina and she looks simply stunning in chic, bright separates. Catch the big story this issue that features six e-tailers who have redefined vintage fashion. Our relationship story tells you what not to disclose your love and sex life, while our beauty feature gives you tips on how to add flowers to your daily beauty routine. The fashion edit is all about animal prints and how to wear them, and how to shine this festive season in the latest hues. If you're a fan of different types of Indian cuisines, then this yummy spread of Gaud Saraswat Brahmin dishes will have you drooling. Find all this and more in this issue, so go grab your copy now! Subscription Now
Femina November Friday 09 2018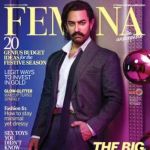 The inimitable Aamir Khan is on the Diwali issue cover of Femina and we can't keep calm! Flip through the pages to know what he thinks about being called a perfectionist, about his family, and upcoming projects. The big story this issue is all about celebrating the festival of lights without breaking the bank. We have expert-backed tips for you to know everything there is to know about investing in gold, and we also have a quiz that will help you find out what role you assume in your girl gang. Our fashion feature is all about fuss-free, minimalistic festive wear to shop for, while our beauty stories revolve around sparkly nails and glamorous eyes. The food pages in this issue have a lavish spread of vegetarian French dishes that will have your guests asking for more. All this and more in our extravagant Diwali issue, so go grab your copy now! Subscription Now
Femina October Wednesday 24 2018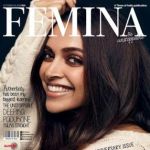 Femina's Anniversary issue stars the fearless Deepika Padukone on the cover. Catch the conversation as she talks about her acting journey, mental health advocacy, and her relationship with Ranveer Singh. Our Big story this issue is an ode to diversity in human society, and we also talk to individuals who share what inclusivity means to them through their art, food, and poetry. Our relationship features offers tips and advice when it comes to lovemaking between same-sex partners, and tell you why having a disability doesn't mean there is a lack of sexual desire. Our fashion spread is all about acceptance and how this is making waves in the fashion industry. The beauty feature celebrates unconventional beauty, while our food pages offer delicious vegan fare to get you started. There's a lot more to look forward to in this issue, so hurry and grab your copy now! Subscription Now
Femina October Tuesday 09 2018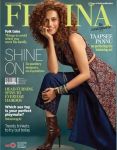 Our cover girl this issue is the bold and beautiful Taapsee Pannu, who talks about how she didn't plan to be an actor, but was destined to be one. Catch the conversation as she also talks about her film journey so far, her greatest indulgences, and how Pink boosted her career. It being the Jewellery special issue, the big story is about six jewellery designers who share their biggest and unending inspirations when it comes to their craft. Our relationship story will help you make a good first impression when you meet your partner's parents, while our fashion edit features jewellery that will help you make a bold style statement. The beauty feature this issue is all about edgy hairdos that will make you stand out in a crowd, and our food pages will give you three delicious Middle Eastern recipes you can make at home. Find all this and more in this issue, so go grab your copy now!
Subscription Now
Femina September Monday 24 2018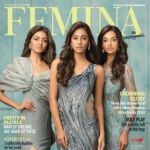 Our cover shoot with the winners of fbb Colors Femina Miss India 2018 for the beauty bumper issue was fun, fabulous and so exciting. The girls brought a whole lot of energy to the shoot, keeping everyone on their toes. Catch the conversation as they talk about their dreams, goals and inspirations in a freewheeling chat. Apart from this, the big story is packed with ancient beauty secrets from around the world that you must check out. Our relationship story is all about introducing role-play in your sex life, while the fashion feature will help you style your outfits with rhinestones and feathers. The beauty edit will guide you to create some lovely pastel looks, and the food feature has three utterly delicious Mexican egg recipes for you to try out. Find all this and much more in this issue, so go grab your copy now! Subscription Now
Femina September Sunday 09 2018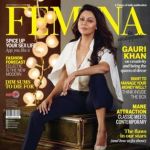 Our Décor issue features the lovely Gauri Khan on the cover. Catch the conversation as she talks about her passion for interior design, how she pursued her dream, and all the amazing spaces she has decorated. The Big Story this issue is all about the biggest and hottest décor trends for 2019, so get ready to revamp your home. Our relationship story gives you a lowdown on your zodiac sign and tips for a great love life. The beauty feature shows you how to do up your hair in the most iconic hairstyles, while the fashion edit will show you how to include androgynous separates in your daily style. If you're a fan of dim sums, then you must flip through our food pages for a sumptuous dim sum spread courtesy chef Sagar Bajaj. Find all this and much more in this issue, so go grab your copy now! Subscription Now
Femina August Friday 24 2018

Femina's latest issue features the stunning Anushka Sharma on the cover. Being the 'Power' issue, we spoke to our cover girl about what power means to her, to which she promptly replied, "Power is meant to empower others." Catch the entire power-packed conversation with the brilliant actor in this issue. Flip through the pages, and you'll find our list of some of the most powerful women in India today. Our relationship experts answer all your silly and serious sex queries, while our fashion edit helps you choose checks that will update your wardrobe. The beauty feature in this issue is all about breaking the rules and looking fabulous while doing it. Find all this and more in this issue that's filled with energy and inspiration. ! Subscription Now
Femina August Tuesday 07 2018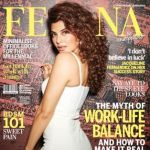 The gorgeous and sexy Jacqueline Fernandez is on the cover of our Work issue, and boy is she working that cover! Flip through the pages to know about her commercial hits, favourite co-star and personal style. The big story this issue is about work-life balance and figuring out if you've got it right. Our relationship experts tell you why dating an introvert can be quite fascinating, while our beauty feature is all about bright hues for glamorous eyes. The fashion edit features sharp tailoring that will smarten you right up, while our food pages will show you how to put together an authentic Italian meal. Find all this and much more in this power-packed issue. Grab your copy now! Subscription Now
Femina July Tuesday 24 2018

Our latest cover is absolutely glorious and features India's golden girls who made the country proud with their achievements at the 2018 Commonwealth Games. We have the amazing Mary Kom, Saina Nehwal, Heena Sidhu, Manika Batra and Shreyasi Singh , all-powerful on the cover, and the big story this issue is a conversation with these five superwomen. Our relationship experts update you on all the benefits of having sex frequently, while our fashion edit is all about vintage sportswear, high-collared jackets, gigantic logos and sneakers. The beauty feature gives you makeup ideas to look gorgeous and glowing this season, and our food pages have simple recipes fordetoxifying drinks that will help you get healthier skin. So what are you waiting for? Get your hands on this power-packed issue right now! Subscription Now
Femina July Monday 09 2018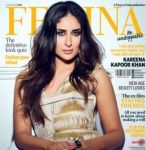 Femina's Digital issue stars the queen of all things fabulous, Kareena Kapoor Khan. Catch the conversation as she talks about motherhood, the best thing about being a celebrity, and social media. The big story this issue is about women who have made their own little niche on the internet and how they did it. Our relationship experts offer tips to be friends with an ex, while the beauty feature will teach you how to get the perfect smoky eye for a night out with friends. The fashion edit is all about virtual reality, so flip through the pages for a fantastical take on fashion. And if you're looking to whip up something delish for breakfast, well then we have three utterly scrumptious crepe recipes waiting for you in our food pages. We also tell you why Diu should make it to your travel bucket list. Find all this and much more in this issue, so grab your copy now! Subscription Now
Description
Buy (Order online) Femina Fortnightly Magazine (Magasin) Now.
Femina Fortnightly Magazine prices are inclusive of shipping and handling through USPS. (for US deliveries). For other Countries shipping will be handled through their Postal Services (like Airmail in India). Address for delivery (Subscription) can be changed anytime. Please mail us the changed address details to info@magazinesemporium.com.
Femina Magazine Description:
The story of Femina, India's first and most read women's English magazine, unfolds much like the story of the urban Indian woman. For over 50 years now, Femina has been capturing the essence of the modern woman and how she has been evolving. Over the years, Femina's readership has grown steadily, with over 60% of its English edition readers being in the age group of 25-45 years and over 76% of its Hindi edition readers being in the age group of 16-45 years. Today, our reader is not 'just' a homemaker or 'just' a professional, but she is both and more. And just like our readers, we too have evolved. Today, Femina has an online incarnation: 'www.Femina.in', and with this, Femina aims to reach out to women through the entire day. The website covers a huge bandwidth of topics including fashion, relationships, beauty, buzz, health, and food, and columns like Your Space and Spotlight make it a one-stop-destination for women, online. The website also features user-generated content in the form of tips, communities, forums, polls, contests and other interactive content which add to the experience of the end user.
Femina Fortnightly Magazine February 09, 2019: Outfit ideas for a sizzling date, Not Tonight, dear How to cope with mismatched desire, Bhumi Pednekar reveals how she is not an accidental actor, and how as a child, had always dreamt to be one. Catch the fun-filled conversation with Bhumi as she spills the beans on her film journey so far, unusual filmograpy, greatest indulgences, her take on love, and more. Beauty looks to match every mood, Taste of Romance Recipes for the Perfect Night IN, Love actually The Science of Emotions Explained
Femina Fortnightly Magazine subscriptions will commence either from current issue or from next coming issue. The Fortnightly English Magazine will be shipped immediately on getting the issues from the publisher. They are inclusive of Diwali and Annual issues. Any special issues will also be sent free.
Subscribe weekly/monthly/yearly magazines - We ship to USA [ United States ], Alabama AL , Alaska AK , Arizona AZ , Arkansas AR , California CA , Colorado Co , Connecticut CT , Delaware DE , Florida FL , Georgia GA , Hawaii HI , Idaho ID , Illinois IL , Indiana IN , Iowa IA , Kansas KS , Kentucky KY , Louisiana LA , Maine ME , Maryland MD , Massachusetts MA , Michigan MI , Minnesota MN , Mississippi MS , Missouri MO , Montana MT , Nebraska NE , Nevada NV , New Hampshire NH , New Jersey NY , New Mexico NM , New York NY , North Carolina NC , North Dakota ND , Ohio OH , Oklahoma OK , Oregon OR , Pennsylvania PA , Rhode Island RI , South Carolina SC , South Dakota SD , Tennessee TN , Texas TX, Utah UT , Vermont VT , Virginia VA , Washington WA , West Virginia WV , Wisconsin WI , Wyoming WY
Australia [ AU ], Austria, Bahrain, Bangladesh, Barbados, Belarus, Bermuda, Bhutan, Botswana, Brunei Darussalam, Bulgaria, Cayman Islands, Cambodia, China [ CN ], Cyprus, Egypt, Eritrea, Estonia, Ethiopia, Fiji, France [ FR ], Georgia, Germany, Ghana, Greece [ GR ], Hong Kong, Hungary, Iceland, Ireland, Italy [ IT ], Japan, Jordan, Kenya, Latvia, Macao ( China )
Malaysia, Mauritius, Malawi, Mongolia, Morocco, Namibia, Nauru, Nepal, Netherlands [ NL ], New Zealand [ NZ ], Oman, Philippines, Poland, Portugal, Qatar, Romania, Russia, Senegal, Singapore [ SG ], South Africa, Spain, Switzerland, Taiwan, Tanzania, Thailand, Turkey, United Arab Emirates [ UAE ], Ukraine, United Kingdom [ UK]