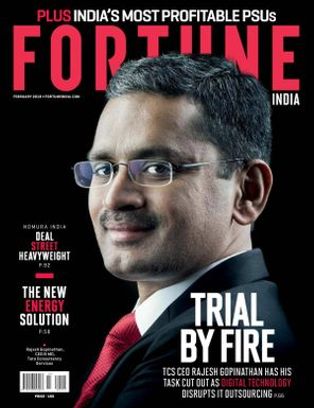 Fortune India Magazine
$7.95 – $165.45
Fortune India February Friday 01 2019

Our cover story this month tells you how TCS, for long the jewel in the crown in the House of Tata, is reviving up its digital business to take the company to the next level. TCS apart, a key highlight in this issue is also Fortune India's annual list of India's most profitable public sector undertakings (PSUs). The 2019 list of the 50 most profitable PSUs has some very interesting takeaways. The biggest one being the near absence of public sector banks in the list. While there were 17 banks in the 2015 list, contributing 21.24% to the aggregate gross profit, this year there are only three, who together contribute a measly 2.47% share to the total. This is evidence enough of the state of India's public sector banks, something the government is also deeply concerned about. As our lists editor Rajiv Bhuva points out, on a sectoral basis, the banking sector's gross profits fell 68.62% this year, while those of non-banking finance companies grew 10.46%. That's a story in itself. Subscription Now
Fortune India January Tuesday 01 2019

This issue cover story is on Walmart's acquisition of Flipkart which is clearly what we at Fortune India call the 'Move of The Year'. Team Fortune India tells why Walmart paid $16 billion for Flipkart to be part of the India story. The cover story apart, team Fortune India also does some crystal ball gazing and tells you what 2019 could hold for us, whether it's business, politics, or entertainment. The big story to watch, ofcourse, will be the general election in middle of year. Happy New Year! Subscription Now
Fortune India December Saturday 15 2018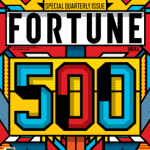 Fortune India 500: A year of churn at India Inc, Indian telecom industry: The game of thrones Subscription Now
Fortune India December Saturday 01 2018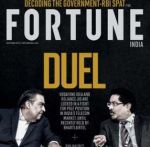 This issue of Fortune India carries a cover story on 'The Telecom War'. India's three surviving telecom giants¬—Vodafone Idea, Bharti Airtel, and Reliance Jio—are fighting a bruising battle for the top spot in market. Airtel, which has been dislodged from the number one position in terms of subscribers by the newly-created Vodafone Idea, finds itself caught in the slugfest between Ambani and Birla. While Vodafone Idea will have to aggressively defend its turf and pump in funds to counter Ambani, Jio, on the other hand, is leaving no stone unturned, topping up its aggressive pricing with innovations to target the lucrative rural market which had so far been Idea's strength prior to the merger. Mittal, India's original telecom entrepreneur, will have to pull out some tricks from his bag if he is to hold on to his market share. Talking of battles, we bring you the story of another another face-off which, despite a ceasefire for now, continues to simmer beneath the surface. That's the one between the government and the Reserve Bank of India (RBI) over a host of contentious issues like systemic liquidity and the amount of the RBI's reserves which should be transferred to the government. Subscription Now
Fortune India November Thursday 01 2018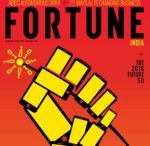 This issue of Fortune India carries a cover story on 'The Power of Data'. The abundant and low cost- availability of data is powering aspirations rooted in a digital world. Team Fortune India explore how data is transforming India. Another interesting read is , how global technology company ABB is helping India leapfrog to the next level of Industrial manufacturing. In this issue we also bring you the 25 examples the A.I is changing business. Another highlight of this issue is the 2018 Fortune list of Future 50 companies, firms which showed steady execution and forward- looking strategic nimbleness. Subscription Now
Fortune India October Monday 01 2018

Fortune India September Sunday 15 2019

WOMEN POWER: IT'S ALWAYS A GOOD thing when lists like the Fortune India Most Powerful Women (MPW) in business see churn. After all, in a country of over 1.3 billion, there will be so many, many women who are making a mark in their chosen fields in the world of business, across sectors. And it's only natural that they will, at some point or other, figure on the list as they grow their businesses and move onward in their journey. This year is one such year of churn: There are as many as 14 new faces, from a wide variety of sectors, and they are success stories in their own right. Whether it is Anupriya Acharya, CEO of media buying firm Publicis Media India who is steering the company through the new digital media age; or Chetna Gala Sinha, founder of Mann Deshi Mahila Sahakari Bank, a bank for rural women; or Falguni Nayar, the astute investment banker-turned-entrepreneur who has built a successful cosmetics business in Nykaa despite intense competition, these new faces give us hope that despite the enormous challenges which women face at work and at home, there are so many who are successfully breaking barriers and forging their own paths to success. Now in its eighth year, the Fortune India MPW list has 19 names that have figured in all editions, a sign of their continuing success and resilience as names to reckon with in the world of business. Topping the list this year is ace lawyer Zia Mody, whose legal acumen and clout in the world of business is legendary. Mody is also among the 19 who have been on the list in all eight years. Read on to find out final 50 names………. Subscription Now
Fortune India September Saturday 01 2018

This year, the wedding of Prince Harry and American actor Meghan Markle in May was a major subject of discussion not just in England but also across the world as millions watched the event live on television. There's something about royalty. And it is with this in mind that we at Fortune India decided to focus on royalty as the central theme for this year's luxury issue. For nearly a decade, the Fortune India luxury issue has tried to serve as a thinking person's guide to consumption." In keeping with that tradition, we picked out three of the world's most exclusive businesses with a royal connection: milliners Lock & Co., perfumer Floris, and shotgun maker Purdey. It takes you on a fascinating journey into their world and brings you delightful anecdotes from these businesses. For instance, Gary Oldman wore royal perfumer Floris' Special No. 127 while playing Winston Churchill in Darkest Hour since the fragrance was a favourite of Churchill. And hat maker Lock and Co.'s master hatter is an Indian by the name of Jayesh Vaghela. Luxury, to the connoisseur of the good life, is not necessarily about wearing or using expensive things. Real luxury is about pure whimsy, about picking up something just because you can. Just like royalty. This issue also marks an important milestone for us at Fortune India. It is the 100th issue of the magazine, and one which gives us a chance to stop for a moment and look back at the journey so far, the people, businesses, and issues we have written about ever since we started off in October 2010. And it's been a wonderful ride for us bringing you those stories, even as the Indian economy and the markets registered one milestone after another. We've put together a 100th edition special package for you. Elsewhere in this issue, we also bring you the annual Fortune Change the World list, companies which are doing good while turning in a profit. Number one on this list of 57 companies from across the world is Reliance Jio of Mukesh Ambani. Subscription Now
Fortune India August Wednesday 01 2018

We broke up the cover theme, into three parts. In the first part, we decided to take a close look at how Indian business groups—are future-proofing themselves against the background of what happened at one of the world's most-admired conglomerates, General Electric, which saw a dramatic meltdown recently. Are there Indian versions of the GE collapse waiting to happen? Are Indian business groups strong and structurally sound enough to withstand the vagaries of competition and the risks of diversification? Or is there a need to reinvent the conglomerates model which many feel is broken? Second important trend we discuss in the context of the future is the way Indian business families are choosing to deploy their surplus wealth. Family offices are emerging as a major tool by which India's uber rich are attempting to increase their wealth. Many prominent business families have now set up robust family offices, with the next generation managing them, and are co-investing either with other family offices or even with angel investors who guide them on attractive investment options in the startup ecosystem. Many family offices are even open to the idea of taking over entire companies and running them. But the new-look family offices are much more than mere investors for families. They do a plethora of other things and are emerging as a key element of the Indian business landscape. The third, and equally important, element in the discussion on the future of Indian business relates to whether India can emerge as the next big innovation hub. From clean fuel to artificial intelligence, from Royal Dutch Shell to Microsoft, India is becoming the chosen laboratory for a number of innovations which can power businesses in the future. Other interesting read is story on how Indian VFX is coming of age, with companies like Prime Focus and actor Shah Rukh Khan's redchillies.vfx emerging as important Indian names in the global entertainment space. Subscription Now
Fortune India July Quarterly 2018

THE GREEN ISSUE: Rising pollution levels in Indian major cities clearly indicates that electric vehicles (EVs) are the next big opportunity in auto sector. The government is pushing auto industry to go electric and ministers have even set a time target of 2030 by which India should ideally not see any petrol or diesel car being sold. Anand Mahindra known to be a risk taker is leading the electric vehicles play in India. But as the market grows, can M&M maintain pole position? These are early days, and there's no real infrastructure or policy framework in place yet for EVs. But Mahindra knows EVs will play a large part in future of mobility and is therefore readying for battle. However, at least one large competitor, a newly- energized Tata Motors, is also much in fray and has won a large ESSL order. Other that M&M there are other exciting green stories. We also bring you the fascinating Fortune story on the collapse of one of the world's most admired conglomerates, General Electric. That meltdown has lessons for many large corporations around the world, including India. The question is whether those questions are being driven home. Subscription Now
Fortune India June Quarterly 2018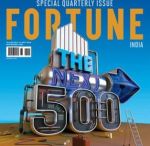 MIDSIZE MUSCLE -Fortune India Next 500 Discussions on the economy in corporate circles these days invariably revolve around whether and how the growth momentum can be sustained, the problems of employment generation, the health of banks, and how, despite the government's initiatives to make the business environment easier, several challenges still remain. Many of these issues are particularly true and relevant for midsize and smaller companies, which continue to battle on and seek growth opportunities, despite the roadblocks. In this context, the Fortune India Next 500, the definitive ranking of the country's largest midsize companies, assumes special significance. Now in its fourth year, the Next 500 is our annual deep dive into all aspects of midsize firms as we slice and dice their revenue and profit figures, look at how the markets value them (if they are listed), and which among these companies have successfully created value over a period of time. This Next 500 list is the result of months of painstaking number-crunching by associate editor and editor (lists) Rajiv Bhuva, who leaves no stone unturned to ensure we get you every dimension of the data at our disposal. In the process, several trends emerge, which are significant pointers to not just the health of the companies but also the state of the economy. After all, it is the midsize companies that are known as major job creators and add significant heft to the country's GDP. Their health status, therefore, is like taking a peek into the blood report of the economy. Subscription Now
Fortune India June Friday 01 2018

FEW CORPORATE BATTLES have been as unpredictable and as dramatic as the one currently playing out for Fortis Healthcare, the hospital chain once owned by the Singh brothers Malvinder and Shivinder. Ever since it became clear that the company would be opened up for bidding and the Singhs were no longer in charge, it's been a series of endless twists and turns, a story which is a continuous work in progress. The cast of characters includes some of the biggest names in India and overseas—the Munjal-Burman combine, representing two of India's best-known business families, Ranjan Pai of the Manipal Group with TPG Capital, IHH Healthcare of Malaysia, and the KKR-backed Radiant Life Care. Chinese giant Fosun has also been sniffing around. Much has happened at the time of going to press. After the erstwhile Fortis board declared the Munjal-Burman combine as the winners in an earlier round of bidding, the board itself was reconstituted after four members resigned or were voted out. It was then natural that the entire bidding process would have to start all over again. And that's exactly what has happened. All bidders are now back to the starting line. Not surprisingly, the three which have been so far ahead in the race—the Munjal-Burman combine, Manipal-TPG, and IHH—have come up with various permutations and combinations which each of them feels is best suited to nursing the hospital chain back to health.Team Fortune India assiduously track the bidders' every move and dive into the engrossing and nail-biting Fortis drama.. Even after this issue hits the stands, the story will be playing out and we at Fortune India will be bringing you the developments both in the magazine and on our digital platform. But for now, it's the story so far. Moving away from Fortis, we discuss how business families are in the midst of fine-tuning their strategies to stay ahead of competition. Subscription Now
Fortune India May Tuesday 01 2018

ONE OF THE biggest reforms the BJP -led government had sought to come up with was an insolvency law which would make winding up companies easier, and hence ensure lenders, who had large amounts of funds locked into these non-performing companies, were able to recover a significant portion of their money. And so, when the Insolvency and Bankruptcy Code (IBC) came into force in 2016, there was justifiable cheer all around, with the corporate sector, financial markets, and even foreign investors lauding the government's move and resolve to push through what was seen as one of the more thorny pieces of the economic reforms roadmap. Cut to 2018, and the picture looks vastly different. While the IBC has been able to bring several cases to the negotiating and bidding table, the experience over the past several months has been one of confusion, protracted legal wrangles, decisions being challenged in the courts, and a woeful lack of clarity on when the cases would actually be resolved. In our cover story in this issue, we deconstruct the challenges facing the insolvency process and find out what's going wrong and whether there are solutions in sight to ensure that a law born out of good intentions does not fall prey to shoddy implementation. Opinion is divided even among the players key to the process. While Aditya Mittal of ArcelorMittal agrees that the code does provide a transparent process for disposal of distressed assets and Puneet Dalmia of Dalmia Bharat calls it "the biggest reform story in India's capitalist history", others like J. Sagar Associates partner Divyanshu Pandey say promoters are also seeking to maximise gains by finding loopholes in the code. The government, then, will need to act quickly to plug the gaps in the code which some see as a hurried and inadequately-drafted law which may not end up serving its purpose. That needs to happen fast. Elsewhere in this issue, we bring you the Fortune list of the World's 50 Greatest Leaders. Subscription Now
Fortune India April Sunday 01 2018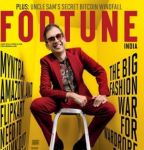 WE ALL KNOW of the e-commerce battleground and the eyeball-to-eyeball confrontation between global giant Amazon and homegrown Flipkart. But an equally intense battle is unfolding behind the scenes: that's for the top slot in the highly competitive online fashion sweepstakes. That the big boys in the e-commerce game will be locked in a fight to the finish on the fashion front is not without reason. At last count, the size of the Indian online fashion market was pegged at $4 billion, projected to grow 3.5 times to touch $14 billion by 2020. And that's not all. Globally, online fashion retail is one of the largest categories in e-commerce and the same trend is visible in India, as more and more people log in to shop for clothes and accessories. Online fashion retail is also pretty much a battle between Amazon and Flipkart, with one little twist. Flipkart also has the Myntra-Jabong combine under its belt–the result of two acquisitions which demonstrated Flipkart's seriousness about the fashion business–and the smallest player currently seems to be winning. Our cover story takes a detailed look at what's at stake in the online fashion retail faceoff. With gross merchandise volume set to touch $1.85 billion by FY19, Myntra is in pole position, followed by parent Flipkart, which expects to finish FY19 with revenue of $1.6 billion. Amazon, with its legendary deep pockets, has some catching up to do, though its fashion business in India is also witnessing a very rapid pace of growth. Amazon Fashion is one of the top three stores on Amazon.in. The e-commerce giant saw an 80% growth in fashion in 2017, and the year before had seen growth of 100%. So clearly, the global giant will soon be snapping at the heels of Myntra and Flipkart. And that's exactly what makes this fight so compelling to watch. Another interesting read is about how the husband-wife duo of K. Ganesh and Meena Ganesh has put together a virtual ecosystem of exciting startups through their platform GrowthStory. Subscription Now
Description
Buy (Order online) Fortune India Monthly Magazine (Magasin) Now.
Fortune India Monthly Magazine February 01 2019 Our cover story this month tells you how TCS, for long the jewel in the crown in the House of Tata, is reviving up its digital business to take the company to the next level. TCS apart, a key highlight in this issue is also Fortune India's annual list of India's most profitable public sector undertakings (PSUs). The 2019 list of the 50 most profitable PSUs has some very interesting takeaways. The biggest one being the near absence of public sector banks in the list. While there were 17 banks in the 2015 list, contributing 21.24% to the aggregate gross profit, this year there are only three, who together contribute a measly 2.47% share to the total. This is evidence enough of the state of India's public sector banks, something the government is also deeply concerned about. As our lists editor Rajiv Bhuva points out, on a sectoral basis, the banking sector's gross profits fell 68.62% this year, while those of non-banking finance companies grew 10.46%. That's a story in itself.
Fortune is one of the most respected business magazines in the world. It is known for its unrivaled access to world's most influential leaders and decision-makers. In a world of business long on information and short on time, Fortune stands out with trusted insight, deep reporting and provocative story telling. Few publications cover the world of business with as much depth, breadth, wisdom, and panache. That's why Fortune is recognized as 'the best magazine in the world that just happens to be about business'. Fortune 500 is perhaps the best-known brand in business journalism and the ultimate hallmark of corporate success. Launched in India in October 2010 in a licensed partnership between ABP Group of Publications & Time Inc., Fortune India retains the spirit of the global brand with respect to thought leadership and practice from across the world every month while adding an Indian dimension. It is the only truly global business magazine dedicated to the global success of Indian business leaders, offering actionable insights to propel their businesses.
Fortune India Monthly Magazine prices are inclusive of shipping and handling through USPS. (for US deliveries). For other Countries shipping will be handled through their Postal Services (like Airmail in India). Address for delivery (Subscription) can be changed anytime. Please mail us the changed address details to info@magazinesemporium.com.
Fortune India Monthly Magazine subscriptions will commence either from current issue or from next coming issue. Fortune India Monthly English Magazine will be shipped immediately on getting the issues from the publisher. They are inclusive of Diwali and Annual issues. Any special issues will also be sent free.
Subscribe weekly/monthly/yearly magazines - We ship to USA [ United States ], Alabama AL , Alaska AK , Arizona AZ , Arkansas AR , California CA , Colorado Co , Connecticut CT , Delaware DE , Florida FL , Georgia GA , Hawaii HI , Idaho ID , Illinois IL , Indiana IN , Iowa IA , Kansas KS , Kentucky KY , Louisiana LA , Maine ME , Maryland MD , Massachusetts MA , Michigan MI , Minnesota MN , Mississippi MS , Missouri MO , Montana MT , Nebraska NE , Nevada NV , New Hampshire NH , New Jersey NY , New Mexico NM , New York NY , North Carolina NC , North Dakota ND , Ohio OH , Oklahoma OK , Oregon OR , Pennsylvania PA , Rhode Island RI , South Carolina SC , South Dakota SD , Tennessee TN , Texas TX, Utah UT , Vermont VT , Virginia VA , Washington WA , West Virginia WV , Wisconsin WI , Wyoming WY
Australia [ AU ], Austria, Bahrain, Bangladesh, Barbados, Belarus, Bermuda, Bhutan, Botswana, Brunei Darussalam, Bulgaria, Cayman Islands, Cambodia, China [ CN ], Cyprus, Egypt, Eritrea, Estonia, Ethiopia, Fiji, France [ FR ], Georgia, Germany, Ghana, Greece [ GR ], Hong Kong, Hungary, Iceland, Ireland, Italy [ IT ], Japan, Jordan, Kenya, Latvia, Macao ( China )
Malaysia, Mauritius, Malawi, Mongolia, Morocco, Namibia, Nauru, Nepal, Netherlands [ NL ], New Zealand [ NZ ], Oman, Philippines, Poland, Portugal, Qatar, Romania, Russia, Senegal, Singapore [ SG ], South Africa, Spain, Switzerland, Taiwan, Tanzania, Thailand, Turkey, United Arab Emirates [ UAE ], Ukraine, United Kingdom [ UK]