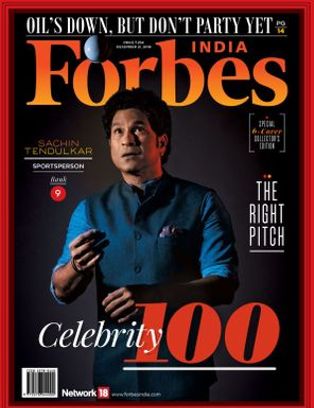 Forbes India Magazine
$12.95 – $299.45
Forbes IndiaDecember Friday 21 2018

The Forbes India Celebrity 100 is an annual list of the 100 top-earning celebrities from the world of entertainment, sport and literature. The issue mentions not just the estimated wealth that they accumulated over the years because of their work but also gives an insight into the lives they lead. The edition is treasure trove of stories about the success and struggles of some of these stars. Watch out for profiles of Sachin Tendulkar, Akshay Kumar, Ayushmann Khurrana, Radhika Apte and Sunil Chhetri. Besides, there's a freewheeling interview with rapper Badshah and trend stories on rising YouTube stars and social media influencers. It's a must-have in one's collection. Subscription Now
Forbes IndiaDecember Friday 07 2018

The current edition of Forbes India features stories of entrepreneurs who have led from the front and shown leadership mettle even in the face of adversity. The winners of the 2018 Forbes India Leadership Awards are profiled in this issue, along with tales of how they have transformed their companies to keep up with the times. That apart, there's an interesting take on Flipkart after the Bansals and the Tatas' likely interest in Jet Airways. Subscription Now
Forbes IndiaNovember Friday 23 2018

The cover story in this issue is on how Zomato co-founder Deepinder Goyal wants to transform the food delivery platform into a farm-to-fork play that supplies restaurants with 'clean' and 'fresh' produce. That apart, he is battling with competitor Swiggy to come up trumps in the food tech sector. There's also a robust package on the Best Under A Billion companies and the Forbes 400 – which features the richest Americans. There's a new No 1 there, Amazon's Jeff Bezos who is worth $160 billion. Subscription Now
Forbes IndiaDecember Saturday 22 2018

The 2018 Forbes India Rich List gives more than a glimpse into the success stories of India's wealthiest individuals. As the list of billionaires keeps getting longer, the cut-off to enter the top 100 keeps rising too. Eleven of the nation's 100 richest saw their fortunes jump by $1 billion or more. While Biocon founder Kiran Maumdar-Shaw is the biggest gainer of 2018, the Turakhia brothers are the youngest on the list. This edition encapsulates their trials, tribulations and glory with in-depth stories and data. Subscription Now
Forbes IndiaNovember Friday 09 2018

The World's best cloud companies, A depreciating rupee, rising oil pricess and fears of a liquidity crisis around NBFCs have reined in the bulld on india's stockmarkets. Are the bears on the prowl?, Dabur Vs Patanjali veda wars, Grofers vs BigBasket: Horses for Courses, How Crisil went beyond ratings, India Inc says #METOO, Designs of the digital decorators, Being Abhinav Bindra Subscription Now
India Forbes October Friday 26 2018

India Forbes October Friday 12 2018

This edition of Tycoons of Tomorrow features an eclectic list of icons who have proven time and again that hard work, perseverance and dedication can take you places. With their accomplishments and zeal to learn, they are role models for those who harbour greater ambitions. Apart from such inspiring profiles, the issue also has an exclusive interview with Bill Gates in which he talks about his efforts to eradicate poverty. There's also an interesting take on Amazon's Jeff Bezos. Another highlight is an interview with South African internet giant Naspers CEO Bob van Dijk. Subscription Now
India Forbes September Friday 28 2018

The cover story of this issue delves into the 'globalisation and specialisation' strategy of Bajaj Auto, the world's third largest motorcycle maker. It also looks at why it is a distant No 2 in motorcycles at home, the world's largest market. In an exclusive interview with Forbes India, its managing director, Rajiv Bajaj, speaks about fixing the past, growing the present and urban mobility. That apart, there is a special package on healthtech technologies that are changing the way India responds to medical care. The other Muthoot, How Airbus is giving wings to Indian startups, Hello to Health Tech Subscription Now
India Forbes September Friday 14 2018

In this issue's cover story Forbes India dwells into the exploding volume of personal loans in the country. Economists are worried about the dent this is creating in household savings; bedsides the dangers of lending to consumers with low credit scores. Also read our package on modern financial technology ventures and how they are evolving. Subscription Now
India Forbes August Sunday 26 2018

The Indian smartphone market is the latest battleground between Xiaomi and Samsung, where both brands are engaged in a slugfest for the top slot. The world's top two players sparring in India is our cover story for this issue. This edition also has our annual marquee study, the Forbes India Super 50 list—a collection of companies with the best shareholder returns, sales growth and return on equity over three years. Subscription Now
India Forbes August Friday 17 2018

We look at the jobs that are likely to emerge soon and how graduates of the future can survive in a competitive landscape. The ambitious go-getters of Gen-Z are changing the work environment and the future workplace may be more gender balanced. Also, not to be missed is the feature on how the Mehras built the sanitary ware brand Jaquar and our Independence Day stories. Subscription Now
India Forbes August Friday 03 2018

Forbes India undertakes an annual 'Hidden Gems' exercise to find unlisted companies that have prospects for sustained growth. Eight such entities—from Manjushree Technopack to Dodla Dairy—have been put together in this issue. Our cover story though is on a potential gem that's less hidden: Etechaces, the parent of PolicyBazaar that is foraying into health care. Also, don't miss our feature on MakeMyTrip (MMT) that has emerged as India's largest online travel aggregator. Subscription Now
Description
Buy (Order online) Forbes India Fortnightly Magazine (Magasin) Now.
Forbes India Fortnightly Magazine December Second Week 2018 Issue: The Forbes India Celebrity 100 is an annual list of the 100 top-earning celebrities from the world of entertainment, sport and literature. The issue mentions not just the estimated wealth that they accumulated over the years because of their work but also gives an insight into the lives they lead. The edition is treasure trove of stories about the success and struggles of some of these stars. Watch out for profiles of Sachin Tendulkar, Akshay Kumar, Ayushmann Khurrana, Radhika Apte and Sunil Chhetri. Besides, there's a freewheeling interview with rapper Badshah and trend stories on rising YouTube stars and social media influencers. It's a must-have in one's collection.
Forbes is the world's leading business magazine and since its inception in 1917, Forbes has stood, unwavering, for one overriding principle: the unshakable belief in the power of free enterprise. Forbes mission has always been clear and unchanging: to provide insights and information that ensure the success of the world's most influential. Faithfully fulfilling that promise is what draws today's most influential business leaders to Forbes.
These high-powered decision-makers represent a community of like-minded individuals bound by their unshakable belief in the spirit of free enterprise. They contribute to it, profit from it and their lives are better for it. For them, Forbes is the quintessential Capitalist Tool. True to its pedigree, Forbes India has donned on the role of the drama critic to Indian business. Since its launch in 2009, the magazine has helped readers connect the dots, form patterns and see beyond the obvious, giving them a perspective beyond the obvious.
Forbes India Fortnightly Magazine prices are inclusive of shipping and handling through USPS. (for US deliveries). For other Countries shipping will be handled through their Postal Services (like Airmail in India). Address for delivery (Subscription) can be changed anytime. Please mail us the changed address details to info@magazinesemporium.com.
Forbes India Fortnightly Magazine subscriptions will commence either from current issue or from next coming issue. India Forbes Monthly English Magazine will be shipped immediately on getting the issues from the publisher. They are inclusive of Diwali and Annual issues. Any special issues will also be sent free.
Subscribe weekly/monthly/yearly magazines - We ship to USA [ United States ], Alabama AL , Alaska AK , Arizona AZ , Arkansas AR , California CA , Colorado Co , Connecticut CT , Delaware DE , Florida FL , Georgia GA , Hawaii HI , Idaho ID , Illinois IL , Indiana IN , Iowa IA , Kansas KS , Kentucky KY , Louisiana LA , Maine ME , Maryland MD , Massachusetts MA , Michigan MI , Minnesota MN , Mississippi MS , Missouri MO , Montana MT , Nebraska NE , Nevada NV , New Hampshire NH , New Jersey NY , New Mexico NM , New York NY , North Carolina NC , North Dakota ND , Ohio OH , Oklahoma OK , Oregon OR , Pennsylvania PA , Rhode Island RI , South Carolina SC , South Dakota SD , Tennessee TN , Texas TX, Utah UT , Vermont VT , Virginia VA , Washington WA , West Virginia WV , Wisconsin WI , Wyoming WY
Australia [ AU ], Austria, Bahrain, Bangladesh, Barbados, Belarus, Bermuda, Bhutan, Botswana, Brunei Darussalam, Bulgaria, Cayman Islands, Cambodia, China [ CN ], Cyprus, Egypt, Eritrea, Estonia, Ethiopia, Fiji, France [ FR ], Georgia, Germany, Ghana, Greece [ GR ], Hong Kong, Hungary, Iceland, Ireland, Italy [ IT ], Japan, Jordan, Kenya, Latvia, Macao ( China )
Malaysia, Mauritius, Malawi, Mongolia, Morocco, Namibia, Nauru, Nepal, Netherlands [ NL ], New Zealand [ NZ ], Oman, Philippines, Poland, Portugal, Qatar, Romania, Russia, Senegal, Singapore [ SG ], South Africa, Spain, Switzerland, Taiwan, Tanzania, Thailand, Turkey, United Arab Emirates [ UAE ], Ukraine, United Kingdom [ UK]