India Today Hindi Magazine
इंडिया टुडे पत्रिका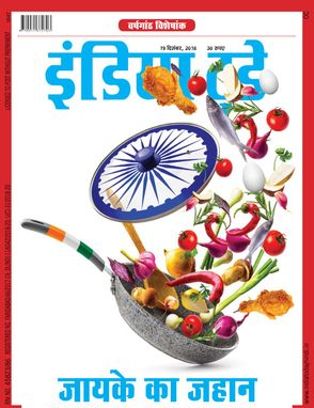 India Today Hindi Magazine
$4.95 – $246.45
India Today (इंडिया टुडे) December Wednesday 19 2018

Zayeqe Ka Jahan India Today writers have travelled 17 states to taste the taste of India for its anniversary issue. They have focussed mainly on street food joints of northern states such as Jammu and Kashmir, Punjab, Haryana, Himachal Pradesh, Rajasthan, Uttar Pradesh, Bihar, West Bengal, Jharkhand, Chhattisgarh etc. Then there is a section on Desi Brands of food joints such as Bikanerwala, Goli Vada Pav etc who aim to go global and in fact many have their outlets in UAE, USA, Australia and New Zealand. Special Report: Kartarpur Imran Ki Googly The Pakistan prime minister caught India off-guard by seizing the initiative on Kartarpur. Team Modi needs to step up the game now to prevent India from appearing as the intransigent party in the eyes of the world. Subscription Now
India Today (इंडिया टुडे) December Wednesday 12 2018

Cover Story: Rajnikanth "Khatarnak Hai Siyasat" It is Rajinikanth's hour of reckoning. Will 2.0 make or mar his political future? His political fortunes now ride on the success of 2.0. If it proves to be another superhit, it will put his entry into Tamil Nadu's political arena on the fast track. Upfront: Ayodhya Phir Wahi Mandir Ki Zameen With an eye on the 2019 Lok Sabha election, a competitive pitch for the construction of the Ram temple at the disputed site in Ayodhya is on in the Sangh parivar. Sangh outfits will likely raise the pitch after Dec. 11, once Parliament session begins and state poll results are in. Eendhan Ke Daam: Tel Ke Jale Par Marham After reaching a high of over $86 a barrel on October 3, oil prices have swung to their lowest in the year. A $1 reduction in crude prices will lower India's import bill by $1.6 billion per year. State: Maharashtra Humko Bhi Saath Le Lein Uddhav's Ram temple call signals his eagerness to ally with the BJP for 2019. The BJP has welcomed Uddhav's overture as "a narrow lane that could turn into a highway". Karnataka: Machhliyon Par Mathaphodi Goa's ban on fish imports over suspicion of contamination sparks protests in Karnataka. before the ban, 900-1,000 tonnes of sea fish were being supplied to Goa per day. Special Report: Air India Koi Ummeed Bar Nahi Aati The government embarks on another exercise to revive national carrier Air India, but the outcome seems obvious. Special Report: Amit Shah Naya Andaaz, Naya Imtihaan From chief strategist to mass campaigner, the assembly polls have seen Amit Shah emerge as a crowd-puller in his own right. What does this mean in the BJP's battle for the heartland? Special Report: Uttar Pradesh Betiyon Ki Hatya Ke Gunahgaar There are anomalies in the rules to curb sex determination during pregnancy and people are illegally operating in the state while the government machinery overlooking the racket. Subscription Now
India Today (इंडिया टुडे) November Wednesday 28 2018

India Today (इंडिया टुडे) December Wednesday 05 2018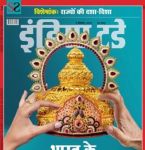 Cover Story: Rajyon Ki Dasha-Disha Bharat Ke Sarvshreshth Rajya India's states are now determining their own destiny and forging individual paths to progress. Special Report: Punjab Atankwaad Ki Wapasi? Khalistani activists are trying to lure impressionable Sikh youth for their cause, aided by Pakistan's ISI. Upfront: Vivad Grih Yudh Mein Bach Payegi CBI? No war fought without weapons could be messier. Sinha, now batting for Verma, was suspected of being among those who helped Aircel's C. Sivasankaran escape. RBI Banam Sarkar The government, keen to maintain fiscal discipline close to the polls, wants to dip into the RBI's resources to bridge the fiscal deficit. Arthaat: Aage Dhalaan Hai Narendra Modi government is suddenly wooing the demonetisation-GST stricken small businesses and it has virtually forced the RBI to toe the line to provide loans. But they cannot hold back the economy from falling to new levels. Subscription Now
India Today (इंडिया टुडे) November Wednesday 21 2018

Challanges before Made in India Space Mission Chand Chhone Ki Chunauti The Grand ambition of sending a manned mission into space by 2022 has spin off befnefites far beyond the bragging rights that will accrue to the fourth space superpower. Indian scientist perfecting technologies for this mission which termed Gaganyaan by Prime Minister Narendra Modi. Upfront: Ram Temple Ayodhya Ki Taraf Wapsi The Supreme Court of India refused to expedite the hearings in disputed Babri Masjid case, a demand made by Uttar Pradesh Government. But the issue of Ayodhya is is akin to life and death for proponents of Hindutva. Congress leaders said that in every five years BJP tries to polarise views on the Ram mandir. MSME Unchi Dukan, Fike Pakwan Prime Minister Narendra Modi announced that loans will be sanctioned online to MSMEs and their cash flows guranteed through an e-discounting platform. Experts see it as a politically motivated and economically unsound pie-in-the-sky initiative, pointing out that lenders are not likely to warm to the idea. State: J&K Ghati Ke Bahar Bhi Sankat Pakistan supported terrorist started killings of innocent people in areas like Kishtwar, which had been proclaimed "militancy-free" years age. It indicates that now militant outfits once again expanding their footprints beyond the Vally. Telangana: Asardaar Chunauti The congress-led alliance finally looks like it will give a gough fight to the TRS and CM K Chandrashekhar Rao in coming Assembly Elections. Congress will contest 95 out of 119 seats while TDP from 14 seats. Big Story: Political Funding Paisa Kahan Se Pa Rahi Hain Partiyan Election funding in india remains an opaque, black money driven exercise, and the 'Reforms' have only made it worse. Anonymous cash donations to political parties lowered to Rs. 2,000 from 20,000. Critics saying this will not change anything on the ground. Nation: Uttar Pradesh Siyasi Zameen Vapas Pane Ka Sangharsh Rashtriya Lok Dal Chief Ajit Singh making all attempts to gain it's foothold in lost ground of Western UP. He is also playing emotional card in name of Jats and farmer leader Mahendra Singh Tikait. Q&A: Satyavadi Samlaingik Manvendra Singh Gohil, the first openly gay Prince of says that he got good response from community on Supreme Court's verdict of section 377. "LGBTQs are already their in Indian cultue. Subscription Now
India Today (इंडिया टुडे) November Wednesday 14 2018

Assembly Elections 2018 Pareesksha Ki Ghadi The fate of three CMs (Shivraj Singh Chauhan, Raman Singh and Vasundhra Raje) in December could determine which way 2019 will go for the BJP and Congress. That's why December 11 will also be a referendum of sorts on the invincibility of Narendra Modi. Upfront: CBI Furr-Furr Udne Lage Totay The unprecedented public spat last month between the top two officers of the Central Bureau of Investigation (CBI) has embarrassed Prime Minister Narendra Modi, undermining his image as a great organiser with an iron grip on the bureaucracy.
Sarkar Banam Reserve Bank Dono Ki Saakh Daon Par Short of shouting from the rooftops, Reserve Bank of India (RBI) officials and the government have made their animosity against each other quite explicit. The unspoken has been spoken. State: Chhattisgarh In Junglon Mein Varjit Hai Chunavi Hawa In south Chhattisgarh's Maoist zones, the state's writ does not run. A battle of wills has started as the election process gets under way. The Maoists have allegedly threatened to chop off fingers found marked with voting ink.
Bihar: Bhajpa Youn Jhuki The party, wary of losing yet another ally, gives in to Chief Minister Nitish Kumar's demands. It's a big climbdown as the BJP now has the highest number of Lok Sabha seats in Bihar. Nation: BJP Ek Aur 'Ayodhya' Ki Taiyari Bharatiya Janta Party is eyeing to make inroads in the South by polarising the society in the name of famous Kerala temple Sabrimala. The party is hell bent upon violating the Supreme Court's order allowing entry of women of all ages in the temple. Subscription Now
India Today (इंडिया टुडे) November Wednesday 07 2018

CBI Raakh Hoti Saakh A corruption scandal, a bitter turf battle between its top functionaries, and an unprecedented purge in its wake have caused irreparable damage to the credibility of the country's premier investigative agency. Can the CBI and the Modi government recover from this setback? Ayodhya: Mandir Kya Gamechanger The Sangh parivar steps up the clamour for the Ram temple in Ayodhya as the title suit comes up for hearing. Special Report: Punjab Rail Durghatna Rail Patriyon Par Narsamhar While the Railways and civic authorities play innocent and wag fingers at each other, what lessons can we learn from the disaster?
Upfront:
Technology Spardha Chahiye Drone Acharya The winners could bag a Rs 100 crore order to build drone swarms for the IAF, potentially, the largest such sourcing from industry Arthaat: Majboor Sarkar Ke Fayede! People are thinking whether Indian democracy is more safe under the command of minority governments as it is witnessing the crisis of its existence under a majority government.
State:
Jammu and Kashmir Ab Uttar Mein Sankat The stain of militancy has spread northward in the state, coinciding with the step-up in anti-militancy efforts. the number of active militants has crossed 300 for the first time in the past decade.
Kerala:
Sabrimala Ka Daav Political parties are alive to the opportunity the Sabarimala controversy offers them. The Sangh and BJP latched onto the god-sent opportunity to consolidate the Hindutva brigade in 'God's own country'.
Nation:
Chunavi Sameekaran Pichhdon Ke Haath Patwar BJP and Congress, both are trying to woo OBC, almost 50 per cent of total voters in India. But they do not vote en mass to a single party. Subscription Now
India Today (इंडिया टुडे) October Wednesday 31 2018

Cover Story:
Arthvyavastha Haath Se Nikalte Halaat A raft of issues—both global and domestic— threaten to derail the economy, posing fresh challenges to the Narendra Modi government in the run-up to the Lok Sabha elections. And a quick turnaround is not on the cards.
Upfront:
Pratishodh #MeToo Ka Shikar In the end, the pressure was too much for even a brazen, blustering M.J. Akbar to withstand. BJP sources murmured that Akbar had initially been advised by the party to take legal action instead.
State:
Pashchim Bengal Jaanch Ki Siyasat TMC, BJP trade charges on scams as state and central agencies corner politicians. TMC leaders allege it's a BJP bid to create a controversy around Mamata ahead of 2019. Arthaat:Baazi Palatne Wale! There is indeed rural distress and the ruling party may have to face the wrath of rural voters. The simmering anger in villages almost defeated BJP in Gujarat assembly elections.
Kerala:
Sabarimala Par Bawal Contradictory pulls in the Sangh parivar bring relief to an embattled CM. The CM underlines his stand on allowing women of all ages into the temple. HAL Siyasi Hangame Mein HAL India's aerospace PSU giant is starved for orders and struggling to stay afloat. It's also now caught in a political crossfire between the Congress and the government.
Special Report:
Statue of Unity Buland Aur Bhavya How Sardar Patel's giant statue in Gujarat, to be inaugurated by the Prime Minister on October 31, overcame engineering challenges to stand tall. Samajwadi Party Akhilesh Yadav is trying his best to prepare his party for the next general election in 2019 but he has to deal with the challenges posed by his uncle Shivpal Yadav to make SP a force to reckon with in the state.
India Today (इंडिया टुडे) October Wednesday 24 2018

Cover Story: MeToo Bahut Hua Samman As women break their silence to name and shame sexual predators, the nation goes through a collective catharsis. #timesup for workplace wolves. Upfront: Missile Deal Missile Offset Kahan Gaya Waiving offset deals seems to be the rule when it comes to big-ticket Russian arms deals. Western manufacturers get no such exemptions. Jalvayu Parivartan: Aa Gaye Qayamat Ke Din? The world is heading over a cliff at a furious pace, confirmed a much-anticipated, comprehensive United Nations report on climate change. Will our leaders acknowledge the scale of the danger scientists insist we face? State: Kerala Saansat Mein Sarkar The Pinarayi government faces strident protests from Hindu outfits over the Supreme Court verdict. the cm's bid to negotiate with groups opposed to the verdict has failed Uttarakhand: Bhang Se Rukega Palayan Uttarkhand government has signed an MOU of Rs 1,100 crore to cultivate industrial hemp in the state. The government has Hemp, or industrial hemp typically found in the northern hemisphere, is a variety of the Cannabis sativa plant species that is grown specifically for the industrial. Special Report: Mayawati Mayawi Rajneeti It's Advantage BJP as a struggle for survival leads the BSP chief to snub the Congress in three poll-bound Hindi heartland states Special Report: Aadhar Abhi Kai Pechokham Aadhaar is legally valid but there are now limits on its indiscriminate use. The Supreme Court verdict has also validated concerns over data protection and privacy. Nation: Rajneeti Hey! Dayanidhan The political parties hesitated to play Hindu card earlier are now trying every bit to woo Hindus through their religious agendas. This is a challenge to BJP who started it first. Subscription Now
India Today (इंडिया टुडे) October Wednesday 10 2018

Cover Story: Rafale Deal Vivadon Ka Sauda Former French president Francois Hollande's hint of crony capitalism in the Rs 59,000 crore Rafale deal sparks a fresh political controversy over suggestions that Anil Ambani was favoured. Will the deal prove costly for the Modi government? Upfront: Nazariya Mufeed Nahi Modicare The PMJAY mimics the US health system, which is expensive with poor outcomes; the Thai model would have served India better. Far from being the panacea for India's healthcare ills, the PMJAY is likely to exacerbate them and be an even bigger disaster than the previous health insurance schemes. Vishisht Pahchan: Sharton Ke Saath Adhaar Barqarar The Aadhaar number, the Supreme Court appeared to be saying, ought to be a force for good, as it was intended, to improve the delivery of benefits to the needy, rather than a tool for the government to play Big Brother. State: Goa Congress Ne Tada Mauqa The BJP has no choice, ailing CM Parrikar has to stay at the helm to keep its shaky ship afloat. The allies will not back anyone other than Parrikar for the cm post. Telangan: Samman Ki Ladai A young widow fights her father to avenge her 'lower' caste husband's honour killing in Telangana. Amrutha is demanding a special law to ensure exemplary punishment for caste-based honour killings. Special Report: CJI Alhada Qism Ka Nayayadhish Overcoming all apprehensions, Chief Justice Ranjan Gogoi is all set to take charge. But will the Supreme Court remain the same? Justice Gogoi acknowledged their 'revolt' in January was triggered by the way the justice B.H. Loya case was dealt with. Nation: Uttar Pradesh Duvidha Kab Door Hogi The organisation of Congress in Uttar Pradesh is in shambles and the party is hesitating to make alliance in state. The big question is whether the old grand party will reorganise itself to fight back and claim its ground. Subscription Now
Description
Buy (Order online) India Today Weekly Magazine (Magasin) Now.
India Today Weekly Magazine 19, दिसंबर 2018 मुद्दा इंडिया टुडे पत्रिका: Cover Story: Zayeqe Ka Jahan India Today writers have travelled 17 states to taste the taste of India for its anniversary issue. They have focussed mainly on street food joints of northern states such as Jammu and Kashmir, Punjab, Haryana, Himachal Pradesh, Rajasthan, Uttar Pradesh, Bihar, West Bengal, Jharkhand, Chhattisgarh etc. Then there is a section on Desi Brands of food joints such as Bikanerwala, Goli Vada Pav etc who aim to go global and in fact many have their outlets in UAE, USA, Australia and New Zealand. Special Report: Kartarpur Imran Ki Googly The Pakistan prime minister caught India off-guard by seizing the initiative on Kartarpur. Team Modi needs to step up the game now to prevent India from appearing as the intransigent party in the eyes of the world.
India Today is an Indian weekly news magazine published by Living Media India Limited, in publication since 1975 based in New Delhi. India Today is also the name of its sister-publication in Hindi. Aroon Purie has been the magazine's editor-in-chief since 1975, a position he has held continuously for the last three decades. It is part of the India Today group, also founded in 1975, which now includes 13 magazines, 3 radio stations, 4 TV channels, 1 newspaper, a classical music label (Music Today), book publishing, and India's only book club. With the publication of its 30th Anniversary issue in December 2005, the magazine, which had commenced publication in 1975 with a circulation of 5,000 copies, has published five editions and currently has a circulation of over 1.1 million copies with a readership of over 5.62 million.
India Today Weekly Magazine prices are inclusive of shipping and handling through USPS. (for US deliveries). For other Countries shipping will be handled through their Postal Services (like Airmail in India). Address for delivery (Subscription) can be changed anytime. Please mail us the changed address details to info@magazinesemporium.com.
India Today Weekly Magazine subscriptions will commence either from current issue or from next coming issue. India Today Weekly Hindi Magazine will be shipped immediately on getting the issues from the publisher. They are inclusive of Diwali and Annual issues. Any special issues will also be sent free.
Subscribe weekly/monthly/yearly magazines - We ship to USA [ United States ], Alabama AL , Alaska AK , Arizona AZ , Arkansas AR , California CA , Colorado Co , Connecticut CT , Delaware DE , Florida FL , Georgia GA , Hawaii HI , Idaho ID , Illinois IL , Indiana IN , Iowa IA , Kansas KS , Kentucky KY , Louisiana LA , Maine ME , Maryland MD , Massachusetts MA , Michigan MI , Minnesota MN , Mississippi MS , Missouri MO , Montana MT , Nebraska NE , Nevada NV , New Hampshire NH , New Jersey NY , New Mexico NM , New York NY , North Carolina NC , North Dakota ND , Ohio OH , Oklahoma OK , Oregon OR , Pennsylvania PA , Rhode Island RI , South Carolina SC , South Dakota SD , Tennessee TN , Texas TX, Utah UT , Vermont VT , Virginia VA , Washington WA , West Virginia WV , Wisconsin WI , Wyoming WY
Australia [ AU ], Austria, Bahrain, Bangladesh, Barbados, Belarus, Bermuda, Bhutan, Botswana, Brunei Darussalam, Bulgaria, Cayman Islands, Cambodia, China [ CN ], Cyprus, Egypt, Eritrea, Estonia, Ethiopia, Fiji, France [ FR ], Georgia, Germany, Ghana, Greece [ GR ], Hong Kong, Hungary, Iceland, Ireland, Italy [ IT ], Japan, Jordan, Kenya, Latvia, Macao ( China )
Malaysia, Mauritius, Malawi, Mongolia, Morocco, Namibia, Nauru, Nepal, Netherlands [ NL ], New Zealand [ NZ ], Oman, Philippines, Poland, Portugal, Qatar, Romania, Russia, Senegal, Singapore [ SG ], South Africa, Spain, Switzerland, Taiwan, Tanzania, Thailand, Turkey, United Arab Emirates [ UAE ], Ukraine, United Kingdom [ UK]