India Today Hindi Magazine
इंडिया टुडे पत्रिका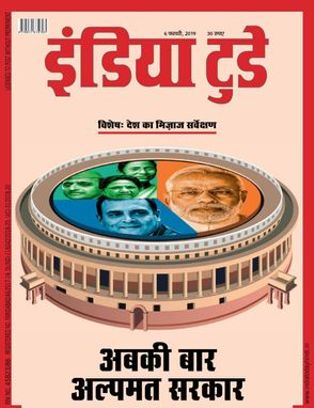 India Today Hindi Magazine
$4.95 – $246.45
India Today (इंडिया टुडे) February Wednesday 06 2019

India Today (इंडिया टुडे) January Wednesday 30 2019

RANVEER SINGH Nikharta Nayak Frenetic, edgy, sexy and likeable Ranveer Singh is on a hot streak at the box office and he's reventing the role of the Bollywood Hero along the way. His filmography from the first to the latest-a smash hit. States: Uttar Pradesh Saath ki Takat The SP and BSP sank their differences to form an alliance. The BJP will find hard to beat: the congress has been left to figure our next moves. An earlier SP-BSP alliance in 1993 had ended in two years when the BSP withdrew support. Maharashtra : Kadvi Hoti Chini Angry over delayed payments for their sugarcane produce, farmers torched the office of six sugar units in Sangli and Satara on January 12. Their payment were two and a half months overdue. Upfront Agustawestland : Chunavi Chopad par Michel A strategy document prepared for the four nation European consortium's Eurofighter by middlemen Christian Michel and Guido Haschke. The document evidently a 2008 sales pitch prepared for Eurofighter against the French Rafale in the UPA era deal for 126 fighter jets, was handed over to the CBI by Italian investigators in 2016. Verma Case Files: Jasusi bhaag-2 Alok verma removed from post of CBI chief by PM led panel within 48 hours of Supreme court order to reinstate him. The alleged tapping of Ajit Doval's phone is now cited as the reason Verma had to go. Roadmap 2019: BJP Mandir Front And Centre The Modi-Shah duo faces a growing clamour in the BJP for a Ram Mandir one way or another sooner rather than later. Will it serve them in the battle of 2019 is the big question. Special Report: NPS Pension Ka Tension Government Employees are angry on the issue of pension. They were shifted form old pension to NPS (National pension system ) which is less beneficial. Employee organisations making this an election issue. Subscription Now
India Today (इंडिया टुडे) January Wednesday 23 2019

Army Chaak Chauband Banane Ki Jaddojehad Army chief Gen. Bipin Rawat has an ambitious blueprint to restructure the bloated Indian Army and make it a lean and modern fighting unit. Will it succeed? States: Jammu and Kashmir Jammu Se Algaw With Ladakh all set to be elevated as a separate division, Chenab and Pirpanjal seek autonomy from Jammu region. Kathua underlined new fault lines within the Jammu region. Goa: Rane, Parrikar aur Rafale File Besides being an embarrassment for the Parrikar government, the audio clip episode may also dent Rane's political career . Any chances Rane had to reach the top post in Goa may now be over. He was in the race as a possible replacement for Parrikar. Special Report: Kshetriye Gathbandhan Chhote Dalon Ki Badi Chunauti BJP generally pretends it is Modi versus all or Congress, but situation on the ground is different. Instead of a grand alliance regional alliances are taking place and these may give tough fight to the ruling alliance. Special Report: Gaaaye Bhagwa Kheme Ko Gaaye Ki Chunauti Yogi Adityanath government has initiated many schemes and programmes to protect cow and it's progeny and the cattle's number has more than doubled. It has lead to increase in numbers of stray animals and finally becoming a menace for farmers and a challenge for the government. Special Report: Dhokhebaaz NRI Dulhe Peedit Dulhanon Ka Pratishodh Thousands of women every year, especially in punjab and haryana, fall prey to marital fraud by NRIs spouses. they are now fighting back Nation: Madhya Pradesh Santulan Sadhne Ki Qawayad With a slim majority to protect and many campaign promises to keep, the first-time Chief Minister faces several challenges. Politics: Ayodhya Ram Bharose! As the Lok Sabha election nears, the Mam Mandir at Ayodhya is a piping hot issue again. But this time, the BJP is not so sure if the subject is quite live enough. Subscription Now
India Today (इंडिया टुडे) January Wednesday 16 2019

Happiness Khushiyon ki dastan Learning from exemplary life stories of common folk who stayed positive and beat the odds. Meet the beacons of hope who are spreading cheer and well being remarkable ways. 10 keys to Well-Being Positive emotions that set off powerful healing energies, make you happier, healthier and more connected to the people around you. Doctors who cares Knight in white coats Doctors who go way beyond the call of duty-from saving heart patients in remote areas to to giving voice to those who've lost it to saving the girl child. Sartorial Bliss Weave La Sari India's traditional drap is seeing a happy revival across the country. A whole new sorority is emerging around the six yards, with young women who have never worn a sari before taking to it with wacky abandon. Special Report : Health Kasrat Ka Karobar Fitness industry growing rapidly in the country because youth want to get rid of lifestyle disease and better physique. Upfront Aurat Hone ki taqat : Women's Reservation Bill Shakti an organisation started a campaign naming "Call Your MP" to get support for women's reservation bill during winter session of parliament. Fursat: Interview with Anupam Kher on The Accidental Prime Minister which is going to hit 1800 screens across India on January 11. Subscription Now
India Today (इंडिया टुडे) January Wednesday 09 2019

India Today (इंडिया टुडे) January Wednesday 02 2019

Aalekh Naya Bharat Hope and grand ambition course through the great Indian hinterland even amid the enveloping gloom of rural distress. Catch the winning spirit. Special Issue: Samajik Yoddha Kitne Chehre Dharkar Aati Hai Kranti It's not easy being a social entrepreneur in rural India. The environment is often hostile, convincing others of your goals and raising money hard and the beneficiaries themselves are often wary of your motives. Special Issue: Chhote Shahr Ke Designer Desi Hunar Ki Udaan Rooted in small-town values and affecting an old-world charm, a crop of new designers is digging deep into history and nostalgia to make a style statement Special Issue: Hashiye Ki Kala Asahmati Ke Rang Young artists are putting issues of caste discrimination and identity on the canvas and challenging the status quo Special Issue: Khel Ke Sitare Oonchi Chhalang Small-town and rural India are becoming the wellsprings of sporting talent Special Issue: Navachar Naye Sankatmochan The digital revolution and ingenious interventions are touching our lives in unimaginable ways, even more so in the countryside, as a new breed of innovators pilot varied initiatives. India Today Art Awards: Kala Ke Ye Qaddawar The fourth edition of the India today art awards honoured artists who raise political questions and create works that comment and protest. Upfront: Rafale Namurad Printer Ne Ghalti Kar Di! The government was back on the defensive a week after the Supreme Court dismissed petitions seeking an investigation into the Rs 60,000 crore purchase of Rafale fighter aircraft. Subscription Now
India Today (इंडिया टुडे) December Wednesday 26 2018

Cover Story: Vidhan Sabha Chunav: Aalekh Agla Morcha Unnis Ka The wins in the three heartland states have re-energised Rahul's Congress, but can the party stitch together a strategy to challenge Modi in 2019?
Congress Rahul Ranneeti The inside story of how Rahul Gandhi's Congress pulled off three stunning victories in the Hindi heartland. BJP Sir Par Mandarati Chunautiyan What the BJP needs to learn from the 3-0 loss to get back on track for Lok Sabha 2019.
Madhya Pradesh: Nath Ke Haath Mein Baagdore The Congress did well to tamp down the rival ambitions of its leaders and ran a hard-fought campaign. Now just to bring the same tenacity to governance.
Rajasthan: Pilot Ne Lagayee Naiya Paar After the euphoria of celebrations will follow the harsh reality of finding a leader who can deliver on poll promises when the Raje regime has left state coffers empty.
Chhattisgarh: Badlav Ki Lahar A concerted push and anti-incumbency get the Congress a victory beyond expectations. But now it has some tall poll promises to keep.
Telangana: Mehnat Aur Saugaat KA Meetha Phal KCR's 'sop saturation' strategy wins the TRS a landslide and a second term.
Mizoram: Phir Baaghi Ko Command Mizoram has a history of voting out governments after two terms. Seeking a third term , the Congress was, in a way, staring at defeat.
Uttar Pradesh: Pust Party Mein Jeet Ne Phoonki Nayee Jaan Uttar Pradesh Congress has seen its worst performance in the last assembly election but with victories in neighbouring states its workers and functionaries are confident of better result next year in general elections. Subscription Now
India Today (इंडिया टुडे) December Wednesday 19 2018

Zayeqe Ka Jahan India Today writers have travelled 17 states to taste the taste of India for its anniversary issue. They have focussed mainly on street food joints of northern states such as Jammu and Kashmir, Punjab, Haryana, Himachal Pradesh, Rajasthan, Uttar Pradesh, Bihar, West Bengal, Jharkhand, Chhattisgarh etc. Then there is a section on Desi Brands of food joints such as Bikanerwala, Goli Vada Pav etc who aim to go global and in fact many have their outlets in UAE, USA, Australia and New Zealand. Special Report: Kartarpur Imran Ki Googly The Pakistan prime minister caught India off-guard by seizing the initiative on Kartarpur. Team Modi needs to step up the game now to prevent India from appearing as the intransigent party in the eyes of the world. Subscription Now
India Today (इंडिया टुडे) December Wednesday 12 2018

Cover Story: Rajnikanth "Khatarnak Hai Siyasat" It is Rajinikanth's hour of reckoning. Will 2.0 make or mar his political future? His political fortunes now ride on the success of 2.0. If it proves to be another superhit, it will put his entry into Tamil Nadu's political arena on the fast track. Upfront: Ayodhya Phir Wahi Mandir Ki Zameen With an eye on the 2019 Lok Sabha election, a competitive pitch for the construction of the Ram temple at the disputed site in Ayodhya is on in the Sangh parivar. Sangh outfits will likely raise the pitch after Dec. 11, once Parliament session begins and state poll results are in. Eendhan Ke Daam: Tel Ke Jale Par Marham After reaching a high of over $86 a barrel on October 3, oil prices have swung to their lowest in the year. A $1 reduction in crude prices will lower India's import bill by $1.6 billion per year. State: Maharashtra Humko Bhi Saath Le Lein Uddhav's Ram temple call signals his eagerness to ally with the BJP for 2019. The BJP has welcomed Uddhav's overture as "a narrow lane that could turn into a highway". Karnataka: Machhliyon Par Mathaphodi Goa's ban on fish imports over suspicion of contamination sparks protests in Karnataka. before the ban, 900-1,000 tonnes of sea fish were being supplied to Goa per day. Special Report: Air India Koi Ummeed Bar Nahi Aati The government embarks on another exercise to revive national carrier Air India, but the outcome seems obvious. Special Report: Amit Shah Naya Andaaz, Naya Imtihaan From chief strategist to mass campaigner, the assembly polls have seen Amit Shah emerge as a crowd-puller in his own right. What does this mean in the BJP's battle for the heartland? Special Report: Uttar Pradesh Betiyon Ki Hatya Ke Gunahgaar There are anomalies in the rules to curb sex determination during pregnancy and people are illegally operating in the state while the government machinery overlooking the racket. Subscription Now
India Today (इंडिया टुडे) November Wednesday 28 2018

India Today (इंडिया टुडे) December Wednesday 05 2018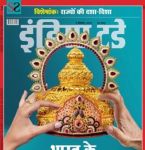 Cover Story: Rajyon Ki Dasha-Disha Bharat Ke Sarvshreshth Rajya India's states are now determining their own destiny and forging individual paths to progress. Special Report: Punjab Atankwaad Ki Wapasi? Khalistani activists are trying to lure impressionable Sikh youth for their cause, aided by Pakistan's ISI. Upfront: Vivad Grih Yudh Mein Bach Payegi CBI? No war fought without weapons could be messier. Sinha, now batting for Verma, was suspected of being among those who helped Aircel's C. Sivasankaran escape. RBI Banam Sarkar The government, keen to maintain fiscal discipline close to the polls, wants to dip into the RBI's resources to bridge the fiscal deficit. Arthaat: Aage Dhalaan Hai Narendra Modi government is suddenly wooing the demonetisation-GST stricken small businesses and it has virtually forced the RBI to toe the line to provide loans. But they cannot hold back the economy from falling to new levels. Subscription Now
India Today (इंडिया टुडे) November Wednesday 21 2018

Challanges before Made in India Space Mission Chand Chhone Ki Chunauti The Grand ambition of sending a manned mission into space by 2022 has spin off befnefites far beyond the bragging rights that will accrue to the fourth space superpower. Indian scientist perfecting technologies for this mission which termed Gaganyaan by Prime Minister Narendra Modi. Upfront: Ram Temple Ayodhya Ki Taraf Wapsi The Supreme Court of India refused to expedite the hearings in disputed Babri Masjid case, a demand made by Uttar Pradesh Government. But the issue of Ayodhya is is akin to life and death for proponents of Hindutva. Congress leaders said that in every five years BJP tries to polarise views on the Ram mandir. MSME Unchi Dukan, Fike Pakwan Prime Minister Narendra Modi announced that loans will be sanctioned online to MSMEs and their cash flows guranteed through an e-discounting platform. Experts see it as a politically motivated and economically unsound pie-in-the-sky initiative, pointing out that lenders are not likely to warm to the idea. State: J&K Ghati Ke Bahar Bhi Sankat Pakistan supported terrorist started killings of innocent people in areas like Kishtwar, which had been proclaimed "militancy-free" years age. It indicates that now militant outfits once again expanding their footprints beyond the Vally. Telangana: Asardaar Chunauti The congress-led alliance finally looks like it will give a gough fight to the TRS and CM K Chandrashekhar Rao in coming Assembly Elections. Congress will contest 95 out of 119 seats while TDP from 14 seats. Big Story: Political Funding Paisa Kahan Se Pa Rahi Hain Partiyan Election funding in india remains an opaque, black money driven exercise, and the 'Reforms' have only made it worse. Anonymous cash donations to political parties lowered to Rs. 2,000 from 20,000. Critics saying this will not change anything on the ground. Nation: Uttar Pradesh Siyasi Zameen Vapas Pane Ka Sangharsh Rashtriya Lok Dal Chief Ajit Singh making all attempts to gain it's foothold in lost ground of Western UP. He is also playing emotional card in name of Jats and farmer leader Mahendra Singh Tikait. Q&A: Satyavadi Samlaingik Manvendra Singh Gohil, the first openly gay Prince of says that he got good response from community on Supreme Court's verdict of section 377. "LGBTQs are already their in Indian cultue. Subscription Now
India Today (इंडिया टुडे) November Wednesday 14 2018

Assembly Elections 2018 Pareesksha Ki Ghadi The fate of three CMs (Shivraj Singh Chauhan, Raman Singh and Vasundhra Raje) in December could determine which way 2019 will go for the BJP and Congress. That's why December 11 will also be a referendum of sorts on the invincibility of Narendra Modi. Upfront: CBI Furr-Furr Udne Lage Totay The unprecedented public spat last month between the top two officers of the Central Bureau of Investigation (CBI) has embarrassed Prime Minister Narendra Modi, undermining his image as a great organiser with an iron grip on the bureaucracy.
Sarkar Banam Reserve Bank Dono Ki Saakh Daon Par Short of shouting from the rooftops, Reserve Bank of India (RBI) officials and the government have made their animosity against each other quite explicit. The unspoken has been spoken. State: Chhattisgarh In Junglon Mein Varjit Hai Chunavi Hawa In south Chhattisgarh's Maoist zones, the state's writ does not run. A battle of wills has started as the election process gets under way. The Maoists have allegedly threatened to chop off fingers found marked with voting ink.
Bihar: Bhajpa Youn Jhuki The party, wary of losing yet another ally, gives in to Chief Minister Nitish Kumar's demands. It's a big climbdown as the BJP now has the highest number of Lok Sabha seats in Bihar. Nation: BJP Ek Aur 'Ayodhya' Ki Taiyari Bharatiya Janta Party is eyeing to make inroads in the South by polarising the society in the name of famous Kerala temple Sabrimala. The party is hell bent upon violating the Supreme Court's order allowing entry of women of all ages in the temple. Subscription Now
Description
Buy (Order online) India Today Weekly Magazine (Magasin) Now.
India Today Weekly Magazine 06, फरवरी 2019 मुद्दा इंडिया टुडे पत्रिका: Desh Ka Mizaj Muqabla Hua Qareebi Four months away from the general election, our survey shows the NDA in a vulnerable position for the first time. 2019 is far from being in the bag BJP: Ab Udhne Lage Andeshe The BJP seems down after recent defeats. Will this be an opportunity for party president Amit Shah to formulate fresh strategy or is he part of the problem? Sarvshreshth Mukhyamantri: Didi Number One Playing unifier at the recent opposition rally, the feisty Mamata Banerjee wins the top slot fourth time in a row Congress: Jeet Ka Haath? Buoyed by electoral successes in the past year, a recharged Rahul Gandhi continues his ascent as Prime Minister Narendra Modi's prime challenger Arthvyavsatha: Patri Se Utri Arthvyavastha The jobs crisis, bank loans mess and farm distress have combined to drag down the economy. The Modi government's image reflects its faltering performance Videsh Neeti: Rafale Ki Gaanth Public opinion is divided on the Rafale deal, but it's the allegations of crony capitalism that should worry the Modi government. Its handling of Pakistan, though, still draws approval Mahagathbandhan: Sajhedari Ki Siyasi Taqat With the MOTN predicting 58 seats for the SP-BSP-RLD pre-poll alliance in UP in 2019, it seems to be advantage mahagathbandhan across the country Samajik Mudde: Aaye Nahi Achchhe Din PM Modi's achhe din remain a far cry for most Indians even as persisting caste and religious inequalities brew discontent Cinema: Salman, Bhai God! The newly married actors scored high on the popularity index, giving the Khans of Bollywood some tough competition Khel: Pitch Ke Pehalwan Sportswomen from tennis and badminton made it to the top five in the list of India's best sportspersons, but the country still bleeds blue.
India Today is an Indian weekly news magazine published by Living Media India Limited, in publication since 1975 based in New Delhi. India Today is also the name of its sister-publication in Hindi. Aroon Purie has been the magazine's editor-in-chief since 1975, a position he has held continuously for the last three decades. It is part of the India Today group, also founded in 1975, which now includes 13 magazines, 3 radio stations, 4 TV channels, 1 newspaper, a classical music label (Music Today), book publishing, and India's only book club. With the publication of its 30th Anniversary issue in December 2005, the magazine, which had commenced publication in 1975 with a circulation of 5,000 copies, has published five editions and currently has a circulation of over 1.1 million copies with a readership of over 5.62 million.
India Today Weekly Magazine prices are inclusive of shipping and handling through USPS. (for US deliveries). For other Countries shipping will be handled through their Postal Services (like Airmail in India). Address for delivery (Subscription) can be changed anytime. Please mail us the changed address details to info@magazinesemporium.com.
इंडिया टुडे Weekly Magazine subscriptions will commence either from current issue or from next coming issue. The Weekly Hindi Magazine will be shipped immediately on getting the issues from the publisher. They are inclusive of Diwali and Annual issues. Any special issues will also be sent free.
Subscribe weekly/monthly/yearly magazines - We ship to USA [ United States ], Alabama AL , Alaska AK , Arizona AZ , Arkansas AR , California CA , Colorado Co , Connecticut CT , Delaware DE , Florida FL , Georgia GA , Hawaii HI , Idaho ID , Illinois IL , Indiana IN , Iowa IA , Kansas KS , Kentucky KY , Louisiana LA , Maine ME , Maryland MD , Massachusetts MA , Michigan MI , Minnesota MN , Mississippi MS , Missouri MO , Montana MT , Nebraska NE , Nevada NV , New Hampshire NH , New Jersey NY , New Mexico NM , New York NY , North Carolina NC , North Dakota ND , Ohio OH , Oklahoma OK , Oregon OR , Pennsylvania PA , Rhode Island RI , South Carolina SC , South Dakota SD , Tennessee TN , Texas TX, Utah UT , Vermont VT , Virginia VA , Washington WA , West Virginia WV , Wisconsin WI , Wyoming WY
Australia [ AU ], Austria, Bahrain, Bangladesh, Barbados, Belarus, Bermuda, Bhutan, Botswana, Brunei Darussalam, Bulgaria, Cayman Islands, Cambodia, China [ CN ], Cyprus, Egypt, Eritrea, Estonia, Ethiopia, Fiji, France [ FR ], Georgia, Germany, Ghana, Greece [ GR ], Hong Kong, Hungary, Iceland, Ireland, Italy [ IT ], Japan, Jordan, Kenya, Latvia, Macao ( China )
Malaysia, Mauritius, Malawi, Mongolia, Morocco, Namibia, Nauru, Nepal, Netherlands [ NL ], New Zealand [ NZ ], Oman, Philippines, Poland, Portugal, Qatar, Romania, Russia, Senegal, Singapore [ SG ], South Africa, Spain, Switzerland, Taiwan, Tanzania, Thailand, Turkey, United Arab Emirates [ UAE ], Ukraine, United Kingdom [ UK]