Kalachuvadu Magazine
காலச்சுவடு மாத இதழ்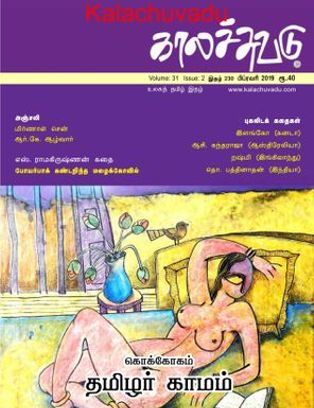 Kalachuvadu Magazine
$8.95 – $99.45
Kalachuvadu (காலச்சுவடு) February Friday 01 2019
This issue of Kalachuvadu flashes on this. There a four short stories by four writers who dwell in the various nooks of the globe. Pathinathan from India, A S Kandaraja from Australia , Elango DJ from Canada and Rashmi from United kingdom portray the life of Tamils in the lands of refuge. Sahitya Akademy winner for this year S Ramakrishnan contributes a story for this number. Poems are by Pa Ahilan from Sri Lanka. A study by Gunasekar on the classic text "KOKKOKAM which speaks the love lust and eroticism of Tamils is the highlighter of this issue. Perumal murugan reviews A R Venkatachalapathi's book on Tamil Encyclopedia , and Riyaz on Ba Venkatesan's new novel Varanasi. Stalin Rjangam revisits the memories of Budhism in Tamil milieu. Eminent film maker Mrinal Sen remembered for his outstanding contributions to the art of cinema by S Anand and P K Sreenivasan speaks about R K Alwar who run a pavement bookshop in Chennai in a poignant piece. Subscription Now
Kalachuvadu (காலச்சுவடு) January Tuesday 01 2019

In a way the current issue of Kalachuvadu is a special number to mark the grand book and cultural festival in Tamil. the Chennai Book fair. The book section consists of excerpts from seven different books to be launched in the book fair. They are Balakumar Vijayaraman's debut novel Sevalkalam, Sharamila Seyyid's Panikkar pethi, Chellammal's auto biography,Ba. Venkatesan's Varanasi and translations of modern world classics. Devibharati and Dhamayanthi pay their tributes to Prapanjan who became an immortal memory for Tamil readers. Well known Editor and archeologist Iravatham Mahaden fondly remembered by Y Subbarayalu and Pon Dhanasekaran. Eminent writer as Vannanilavan, M Gopalakrishnan, Kulasekaran and Malayalam writer Unny R contibutes short stories and M Yuvan and Anar poems for this issue. Apart from the regular features this issue which has 120 pages for better reading and preservation. Subscription Now
Kalachuvadu (காலச்சுவடு) December Saturday 01 2018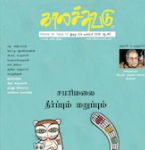 சபரிமலை தீர்ப்பும் அதன் எதிர்ப்பாளர்களும், அரசு – ரிசர்வ் வங்கி மோதல்கள் Subscription Now
Kalachuvadu (காலச்சுவடு) November Thursday 01 2018

கவிதை கதை கட்டுரை, This 227th issue of Kalachuvadu has been devoted to short fiction in Tamil. There are six short stories by writers such as Yuvan chndrasekar, Pukazh,Chandra Ravindran, Kalayanaraman, Suresh Pradeep and Ganseh Venkatraman. A critical piece on the trace and path of contemporary short fiction by Sivasankar S J adds dimension. Well known writer Ambai discuses the root and cause of the #metoo problem in her own way. Satchidanandan Sukirtharaja from London writes about the Man Booker prize winning novel The Milkman by Anna Burns and Rathan from Canada writes on the 2017 movie The Wife , directed by Björn Runge. Poems by Ravi Subramanian, Jameel and Jeevan Benny are there. Stalin Rajangam contributes two articles for this issue. One is review of the Tamil movie ' Pariyerum perumal and the other one is about the school for Dalits in which Gandhi had a pivotal role. The editorial speaks about Tabooed space extended to women in public sphere. Subscription Now
Kalachuvadu (காலச்சுவடு) October Monday 01 2018

கல்வி சிறப்பிதழ் புதிய பாடங்கள், The education department in Tamilnadu is on the way for a change and the same is reflected in the present issue of Kalachuvadu. Eight eminent educationists speak on various aspects of school education. Teacher like Bergin , T.Prameswari and Saravanan, education officer Arul Murugan, education journalist Pon Dhanasekaran, social activist Selvi Mano , student Sahana and retired teacher Sundaramahalingam are the contibutors for this special section. The then Secretary for School Education and sculpture of new education policy Udhyachandran talks to writer Perumalmurugan elaborately on each and every aspect of the new method of teaching and new text books. Two personalities who passed away recently, Kuldip Nayyar, journalist and Kondapalli Koteswaramma Communist worker , are paid tribute by Dhanasekaran and Gowri. The editorial is on the issues around the Jalandar Arch Bishop Franco Mulakkal. Did SuRa read and like Borges? Yes the notes from his diary say so. Two senior writers Vannanilavan and Pathasari contribute poems to this issue. The regular feature like stories ( by N K Shankar and Tha Aravindan ), book review ( Ka Vai Palanisamy on A S Kandaraja's story collection, and film review ( for the movie Merku thodarchimalai by Anbuvendan ) are there for the feast. Subscription Now
Kalachuvadu (காலச்சுவடு) September Saturday 01 2018

கலைஞர் மு.கருணாநிதி (1924-2018), வரலாறு விடுதலை செய்யும், இனியவையும் இன்னாதவையும், This issue of Kalachvadu stresses in its editorial the need of the hour , how to encounter the natural disaster in the wake of recent flood in Kerala. The special section devoted to the Dravidian leader and former Chief Minster of Tamilnadu, Kalaignar M Karunanidhi. Sukumaran shares his experiences as a journalist under Karunanidhi while Marudhan analyzes his contributions to the Dravidian ideology and J Balasubramanian his steps taken to for the upliftment of Dalit community inTamilnadu. The three contributors not merely sing ode to Kalaignar but appraise his service and stand points. Winner of the Nobel prize for literature, V S Naipal is remembered by Vishnu Swaroop in his moving obituary. E Annamalai throws meaningful questions why Asian students denied opportunity in the universities of US. Isai, Pa. Sahadevan and ShaA present their lucid poems in this issue. Two stories by Naga Prakash and K N Senthil, marks the new trend in short fiction. A R Venkatachalapathi's piece on the mind set of Tamil literary persons is sharp and hitting.Translation of EPW editorials by K Thirunavukkarasu probes the facts and practese of the government machinary Subscription Now
Kalachuvadu (காலச்சுவடு) August Wednesday 01 2018

சி.வை,தாமோதரம் பிள்ளை – உ.வெ.சாமிநாதையர் எனக்கு அவரும் அவருக்கு நானுமே சாட்சி ஆ.ரா.வெங்கிடாஜலபதி The present issue of Kalachuvadu devoted to a full length special article on Editing of classics in the end of 19th and beginning of 20th century. A R Venkatachalapathy discusses the relation between two giants in compilation and editing of Classic litereature in Tamil i e C W Dhamotharam pillai and U V Saminatha ayyar. It is an article which resolves the riddles and finds answers in this field. The editorial speaks once again on the freedom of expression in the wake of the censorship for the malayalam writer S Hareesh. The regular features like epw pages and literary articles are there. Vishalraja's story and Peruvazhuthi's poems are a feast for reading. Three articles on Cinema by Gokulprasad, Athaiya and eninant Srilankan director Lester Bris are informative and lucid. Subscription Now
Kalachuvadu (காலச்சுவடு) July Sunday 01 2018

தமிழ் சினிமா டிஜிட்டல் யுகத்தில்
Tamil Cinema – In digital era is the theme of the special section in the current issue of Kalachuvadu. Well known film writers like have contributed their pieces on various aspects of Tamil Cinema. History of film making, new creative encounters, wins and loses of cinema in he digitization, new roll of the directors, subaltern life in cinema are the topics discussed in these articles. Theodore Baskharan, Amshankumar, Aravindan, Uma Varadarajan, Isai, Santhosh Narayanan, Unny R., Bogan Sankar, Gireesh, Tamilarasan and Thigahparidi are the contributors for this section. Pavannan pays tribute to M L Thankappa the poet and tranlator in his soulful article. An interesting essay on his first salary at 80 plus age by A Muttulingam is undoubtedly remarkable. Rendering Kabir in Tamil by Sengathir is brilliant. Two short stories by Kalaichelvi and Kalamohan are there in this issue for fiction lovers. The editorial speaks about the aftermath of Neet entrance tests and suggests some notable changes to be taken. The film Kala being reviewed from a new angle. The regular item of EPW editorials are there for open debate. Wow, this issue is bulky by more pages as more interesting features have been carried in. Subscription Now
Kalachuvadu (காலச்சுவடு) June Friday 01 2018

ஜூன் 2018 மாத இதழ்: ஸ்டெர்லைட் போராட்டம் நின்று கொள்ளும் அரசு, இரு தேர்தல்கள் கர்நாடகா, மலேஷியா
Obviously it is a must to have extensive reportage about the popular struggle against Sterlite Copper at Tutuicorin and the present issue of Kalachuvadu does it in fitting way. The editorial analises the happenings and condemns the state atrocity on its subjects. There is a detailed story about the factory and the agitations since the beginning. Two elections whose results expected nationwide and worldwide , ie., one the general election in Karanataka and the presidential election in Malaysia are they. Preethi Nagaraj writes on the post election scenario in Karnataka and Manimoli on Malaysia election verdict. R Pattabiraman stresses the relevance of Karl Marx in his article. Ambai, Tamil writer brings Assamese poet Aruni Kashyap to Tamil literature through her translation. Three short stories and two book reviews form the literary section. Rathan writes on world cinema in a different perspective. We have the regular pieces from EPW in K Thirunavukkarasu's translation. Subscription Now
Kalachuvadu (காலச்சுவடு) May Tuesday 01 2018

Kalachuvadu devotes this May 2018 issue for poetry. This number has 25 poems by 20 poets, starting from senior Kalapriya to new entrant Muthurasa. This selection shows the wide range of poetry which add new dimensions to Contemporary Tamil poetry. Poets Bogan Shankar, Parameswari and Sivasankar write on the new poetics. Ananth , known as the pioneer of investigative journalism in Tamil through his magazine Visitor and promising novelist Arshiya whose writings speak on the plight of Urdu speaking Muslims in Tamilnad are remembered by Savitri Kannan and Kalanthai Peer Mohammed respectively. Stalin Rajangam finds out new facts from history which show the intellectual bondage between Ranade and Dr. Ambedkar in a poignant article. Two short stories one by M Gopalakrishanan and other by A S Kandaraja are feast to readers. Two art house movies , Manusangada ( Tamil ) and S Durga ( Malayalam ) are reviewed by K C Sebasin and Reena Shalini. Regular features such as the editorials from EPW and book reviews also appear in this issue Subscription Now
Kalachuvadu (காலச்சுவடு) April Sunday 01 2018

Kalachuvadu (காலச்சுவடு) March Thursday 01 2018

Description
Buy (Order online) Kala chuvadu Monthly Magazine (Magasin) Now.
Kalachuvadu Monthly Magazine prices are inclusive of shipping and handling through USPS. (for US deliveries). For other Countries shipping will be handled through their Postal Services (like Airmail in India). Address for delivery (Subscription) can be changed anytime. Please mail us the changed address details to info@magazinesemporium.com.
Kalachuvadu Monthly Magazine பிப்ரவரி 2019 மாத இதழ்: This issue of Kalachuvadu flashes on this. There a four short stories by four writers who dwell in the various nooks of the globe. Pathinathan from India, A S Kandaraja from Australia , Elango DJ from Canada and Rashmi from United kingdom portray the life of Tamils in the lands of refuge. Sahitya Akademy winner for this year S Ramakrishnan contributes a story for this number. Poems are by Pa Ahilan from Sri Lanka. A study by Gunasekar on the classic text "KOKKOKAM which speaks the love lust and eroticism of Tamils is the highlighter of this issue. Perumal murugan reviews A R Venkatachalapathi's book on Tamil Encyclopedia , and Riyaz on Ba Venkatesan's new novel Varanasi. Stalin Rjangam revisits the memories of Budhism in Tamil milieu. Eminent film maker Mrinal Sen remembered for his outstanding contributions to the art of cinema by S Anand and P K Sreenivasan speaks about R K Alwar who run a pavement bookshop in Chennai in a poignant piece.
Kalachuvadu is an international monthly journal for politics and culture. Published since 1988, it was founded by the noted Tamil writer Sundara Ramaswamy (1931-2005). The Magazine was published first as a quarterly then a bi-monthly and has been a monthly since 2004.
Kala chuvadu maadha idhal Magazine subscriptions will commence either from current issue or from next coming issue. காலச்சுவடு Tamil Magazine will be shipped immediately on getting the issues from the publisher. They are inclusive of Diwali and Annual issues. Any special issues will also be sent free.
Subscribe weekly/monthly/yearly magazines - We ship to USA [ United States ], Alabama AL , Alaska AK , Arizona AZ , Arkansas AR , California CA , Colorado Co , Connecticut CT , Delaware DE , Florida FL , Georgia GA , Hawaii HI , Idaho ID , Illinois IL , Indiana IN , Iowa IA , Kansas KS , Kentucky KY , Louisiana LA , Maine ME , Maryland MD , Massachusetts MA , Michigan MI , Minnesota MN , Mississippi MS , Missouri MO , Montana MT , Nebraska NE , Nevada NV , New Hampshire NH , New Jersey NY , New Mexico NM , New York NY , North Carolina NC , North Dakota ND , Ohio OH , Oklahoma OK , Oregon OR , Pennsylvania PA , Rhode Island RI , South Carolina SC , South Dakota SD , Tennessee TN , Texas TX, Utah UT , Vermont VT , Virginia VA , Washington WA , West Virginia WV , Wisconsin WI , Wyoming WY
Australia [ AU ], Austria, Bahrain, Bangladesh, Barbados, Belarus, Bermuda, Bhutan, Botswana, Brunei Darussalam, Bulgaria, Cayman Islands, Cambodia, China [ CN ], Cyprus, Egypt, Eritrea, Estonia, Ethiopia, Fiji, France [ FR ], Georgia, Germany, Ghana, Greece [ GR ], Hong Kong, Hungary, Iceland, Ireland, Italy [ IT ], Japan, Jordan, Kenya, Latvia, Macao ( China )
Malaysia, Mauritius, Malawi, Mongolia, Morocco, Namibia, Nauru, Nepal, Netherlands [ NL ], New Zealand [ NZ ], Oman, Philippines, Poland, Portugal, Qatar, Romania, Russia, Senegal, Singapore [ SG ], South Africa, Spain, Switzerland, Taiwan, Tanzania, Thailand, Turkey, United Arab Emirates [ UAE ], Ukraine, United Kingdom [ UK]