Motor India Magazine
$9.95 – $111.45
Motor India November Thursday 01 2018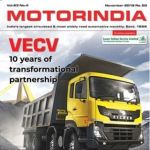 The November edition of Motorindia focuses on the construction and mining tippers and construction equipment. Has exclusives with major OEMs operating in this segment. It also has inputs from the IAA Commercial Vehicle show. Interesting read. Happy reading.
Subscription Now
Motor India October Monday 01 2018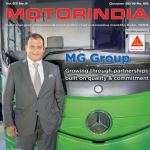 MG Group Growing through partnerships built on quality & commitment, Suppliers showcase proweas at bus world India 2018 Subscription Now
Motor India September Saturday 01 2018

Ashok Leyland 70 years of Indian Innovation, IAA 2018 strong indian contingent to showcase innovations for world market Subscription Now
Motor India August Wednesday 01 2018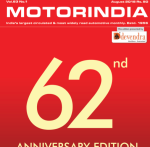 Future of indian CV industry: towards 2030, Automated trucks – the next bug disruptor?, Impact of new truck axle load norms, Indian logistics sector: post-gst era, Special feature on mass transport, The women who dared to dream Subscription Now
Motor India July Sunday 01 2018

This edition has a detailed feature on the Indian CV industy. Other interesting stories are on Hypratek, Shree Damodar Coach crafts,AssetTrackr, ADR Axles India and Eicher. Subscription Now
Motor India June Friday 01 2018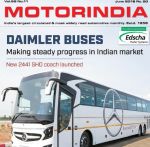 Daimler Buses Making steady progress in indian market, New 2441 SHD coach launched Subscription Now
Motor India May Tuesday 01 2018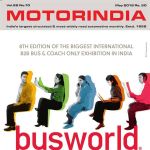 VECV geared up for 'exceptional' growth phase in Indian CV industry, Tata International DLT making rapid strides, TRIWAY GROUP – Excelling with focus on specialized expertise and distribution management, Manatec aligning with exciting developments ahead, Rajmudra Tours and Travels – Success through dedicated focus on staff transportation, Commercial vehicle demand to trend high in most global regions in 2018 Subscription Now
Motor India April Sunday 01 2018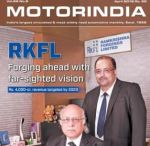 This edition has an interesting feature on RKFL. Other interesting stories are on MAN, Eberspaecher, Ashmi Road Carriers, Wabco and much more. Subscription Now
Motor India March Thursday 01 2018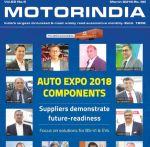 This edition has interesting stories on the recently-concluded event 'Auto Expo 2018'. It highlights how the auto component suppliers demonstrate future-readiness. And many more informative news and articles in it. Subscription Now
Description
Buy (Order online) Motor India Monthly Magazine (Magasin) Now.
Motor India Monthly Magazine November 2018 Issue: The November edition of Motorindia focuses on the construction and mining tippers and construction equipment. Has exclusives with major OEMs operating in this segment. It also has inputs from the IAA Commercial Vehicle show. Interesting read. Happy reading.
MOTOR INDIA, started in the year 1956, is India's leading B2B automotive monthly. For over 56 years, Motor India has been a credible source of information on the Indian automotive industry. Today, Motor India is published in English and in Hindi, read in many countries across the globe. In addition to industry news, the magazine provides in-depth coverage, critical analysis, provocative columns and engaging feature stories. We keep our readers and advertisers coming back for more with a growing list of unique features, conferences, events, special issues, targeted editions, exclusive online and e-mail programs, digital edition sponsorship opportunities and lots more. Our aim is to keep readers abreast of what their competitors do, aware of the latest changes in legislation and fully informed about all key developments within the ever fast-changing industry.
Motor India Monthly Magazine prices are inclusive of shipping and handling through USPS. (for US deliveries). For other Countries shipping will be handled through their Postal Services (like Airmail in India). Address for delivery (Subscription) can be changed anytime. Please mail us the changed address details to info@magazinesemporium.com.
Motor India Monthly Magazine subscriptions will commence either from current issue or from next coming issue. The Monthly English Magazine will be shipped immediately on getting the issues from the publisher. They are inclusive of Diwali and Annual issues. Any special issues will also be sent free.
Subscribe weekly/monthly/yearly magazines - We ship to USA [ United States ], Alabama AL , Alaska AK , Arizona AZ , Arkansas AR , California CA , Colorado Co , Connecticut CT , Delaware DE , Florida FL , Georgia GA , Hawaii HI , Idaho ID , Illinois IL , Indiana IN , Iowa IA , Kansas KS , Kentucky KY , Louisiana LA , Maine ME , Maryland MD , Massachusetts MA , Michigan MI , Minnesota MN , Mississippi MS , Missouri MO , Montana MT , Nebraska NE , Nevada NV , New Hampshire NH , New Jersey NY , New Mexico NM , New York NY , North Carolina NC , North Dakota ND , Ohio OH , Oklahoma OK , Oregon OR , Pennsylvania PA , Rhode Island RI , South Carolina SC , South Dakota SD , Tennessee TN , Texas TX, Utah UT , Vermont VT , Virginia VA , Washington WA , West Virginia WV , Wisconsin WI , Wyoming WY
Australia [ AU ], Austria, Bahrain, Bangladesh, Barbados, Belarus, Bermuda, Bhutan, Botswana, Brunei Darussalam, Bulgaria, Cayman Islands, Cambodia, China [ CN ], Cyprus, Egypt, Eritrea, Estonia, Ethiopia, Fiji, France [ FR ], Georgia, Germany, Ghana, Greece [ GR ], Hong Kong, Hungary, Iceland, Ireland, Italy [ IT ], Japan, Jordan, Kenya, Latvia, Macao ( China )
Malaysia, Mauritius, Malawi, Mongolia, Morocco, Namibia, Nauru, Nepal, Netherlands [ NL ], New Zealand [ NZ ], Oman, Philippines, Poland, Portugal, Qatar, Romania, Russia, Senegal, Singapore [ SG ], South Africa, Spain, Switzerland, Taiwan, Tanzania, Thailand, Turkey, United Arab Emirates [ UAE ], Ukraine, United Kingdom [ UK]