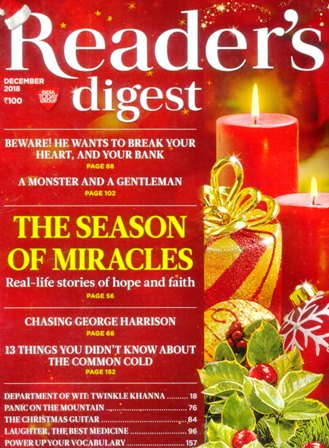 Readers Digest Magazine
$9.95 – $111.45
Readers Digest December Saturday 01 2018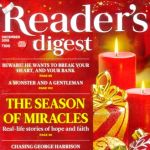 Beware! He wants to break Your Heart, and Your Bank, A Monster and a Gentleman, The Season of Miracles Real life stories of hope and faith, Chasing George Harrison, 13 Things you didn't know about The Common Cold Subscription Now
Readers Digest November Thursday 01 2018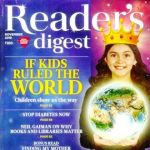 If Kids Ruled the world children show us the way, stop diabetes now, Neil Gaiman on why books and libraries matter, finding my mother, what personal bankers wont tell you Subscription Now
Readers Digest October Monday 01 2018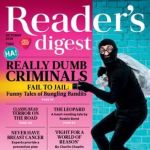 There's something about bungling—and bumbling—bandits that is absolutely hilarious. The cover story lists criminals who were dumb enough to leave tell-tale clues which led to them being nabbed rather easily. From the world of dumb criminals to a space shared by a man and a leopard, there's Ruskin Bond's 'The Leopard', an evocative tale of man's greed and an animal's misfortune. In 'Lower Your Risk For Breast Cancer', there are expert-backed tips on how to keep the killer disease at bay. Plus, there's 'Global Warming: The Good News', which presents positive trends that are impacting the environment. All this and a lot more in the October issue of Reader's Digest! Subscription Now
Readers Digest September Saturday 01 2018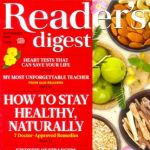 Heart Tests that can save your life, How to stay healthy, naturally 7 Doctor Approved remedies, Kindness of strangers, The Brilliant and funny Stephen Hawking Subscription Now
Readers Digest August Wednesday 01 2018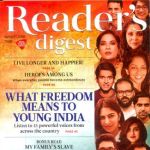 Highlights of Reader's Digest August 2018, issue: As India gears up for Independence Day, we turn to our youth to understand what freedom means to them in our story 'Voices for Liberty'. Alongside, we examine the state of freedom in a digital world in 'How Free Are We?' by Paranjoy Guha Thakurta. As Press freedom across the globe stands threatened, we look back at India's first English-language newspaper, helmed by a maverick Irishman, that challenged the might of Governor General Warren Hastings in @AndrewOtis's 'An Unlikely Champion of Press Freedom'. We live in times fraught with hatred and communal conflict. The two everyday heroes—in 'Enduring Love' and 'Between a Man and a Mob'—bring hope as we pan into the lives of a couple and a policeman, regular people, who stood up against aggression to save lives. Find inspiration in 'The Transformative Power of Giving'—experiences of ordinary people who felt bigger than themselves when they embraced a life of philanthropy. Other fascinating reads include 'My Family's Slave', 'Trapped in a Glacier', 'When the Ektara Fell Silent', and a fascinating photo feature titled 'Clandestine in Delhi'. Of course, there are a number of stories in our Art of Living section that bring practical tips and advice—especially in this rainy season. Subscription Now
Readers Digest July Sunday 01 2018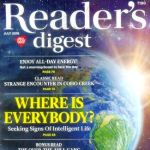 Enjoy All-Day Energy! – Get a morning boost to face the day. Classic Read – Strange Encounter In Coho Creek and more… Subscription Now
Readers Digest June Friday 01 2018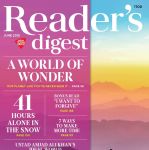 Our June issue has the best of reading – from stories of adventure, travel and humour to touching tales of kindness, two very special Father's Day articles and a gorgeous photo feature that celebrates the majesty of our beautiful planet. Subscription Now
Readers Digest May Tuesday 01 2018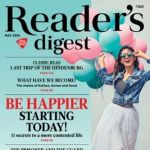 Highlights of Reader's Digest May 2018, issue: Often, as we get older and are faced with the vagaries of life, when grief and pain threaten to overwhelm us and happiness seems far away, it is friends, family and our resilience that can help bring back the joy. How? Read on, about this secret mantra in the May cover story: 'Choose Happiness Every Time'. 'On a Clear Day …' Another good read comes from the foothills of the mighty Himalayas, a sense of perspective that could well become life's motto. Here's how, if we look hard enough, gathering clouds don't really have to be cause for dismay in life. When the rape and brutal killing of a minor is mired in controversy purely because of her religion and the perpetrators of the crime roam about with great insouciance, it is indeed time to ask whether basic humanity is in danger—it is time to ask ourselves 'What Have We Become?' Author Anuradha Roy's clarion call in this issue, and many more. Happy reading! Subscription Now
Readers Digest April Sunday 01 2018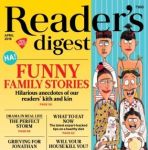 We're back with the humour special! This time our cover story's focus is on the clown in every clan. We asked you, our readers, to share hilarious stories of their nutty family members. It was hard to choose from amongst so many wonderful entries. But there they are: tales of snoopy relatives, crazy uncles and amusing childhood experiences. Then, flip through the pages for an American CIA agent's insider's guide to government-speech. Don't forget the Indian glossary of governance, a satirical take on sarkari terms we are all familiar with. Read all about Graham Norton, comedian and television presenter, on 20 years in show business and his last meeting with Carrie Fisher. Another fun read is Strange Attractions, on museums around the world dedicated to failed romantic relationships. Do not miss our Drama in Real Life, a survival quest of seven men lost at sea; how a woman grieved the untimely death of her husband through his texts and emails; the story of an openly gay (to the world) man who has yet to come out to his loving and supportive parents; a Cambodian taxi driver and his rendezvous with Angelina Jolie; a round up of India's most glorious UNESCO World Heritage sites; and the latest expert-backed advice on how to eat right. There's also a full report on Reader's Digest Chronics, a special storytelling event involving six well-known authors. This issue promises to be a mix of humour, health, heart and drama. Happy reading! Subscription Now
Readers Digest March Thursday 01 2018

Description
Buy (Order online) Readers Digest Monthly Magazine (Magasin) Now.
Highlights of Readers Digest Monthly Magazine December 2018, issue: Beware! He wants to break Your Heart, and Your Bank, A Monster and a Gentleman, The Season of Miracles Real life stories of hope and faith, Chasing George Harrison, 13 Things you didn't know about The Common Cold
Reader's Digest has been the world's biggest-selling magazine for nearly nine decades. It is also India's largest-selling magazine in English. Beneath the fun and excitement of its pages, the Digest is, above all else, a serious magazine that never loses sight of the fact that, each day, all of us confront a tough, challenging world. To the millions who read the Digest, it is not a luxury—it is a necessity. Deep within its widely varied package of humour, real-life dramas and helpful information, there is in every issue of the Digest a subtle power that guides people in every aspect of their lives.
Readers Digest Monthly Magazine subscriptions will commence either from current issue or from next coming issue. Readers Digest Monthly English Magazine will be shipped immediately on getting the issues from the publisher. They are inclusive of Diwali and Annual issues. Any special issues will also be sent free.
Subscribe weekly/monthly/yearly magazines - We ship to USA [ United States ], Alabama AL , Alaska AK , Arizona AZ , Arkansas AR , California CA , Colorado Co , Connecticut CT , Delaware DE , Florida FL , Georgia GA , Hawaii HI , Idaho ID , Illinois IL , Indiana IN , Iowa IA , Kansas KS , Kentucky KY , Louisiana LA , Maine ME , Maryland MD , Massachusetts MA , Michigan MI , Minnesota MN , Mississippi MS , Missouri MO , Montana MT , Nebraska NE , Nevada NV , New Hampshire NH , New Jersey NY , New Mexico NM , New York NY , North Carolina NC , North Dakota ND , Ohio OH , Oklahoma OK , Oregon OR , Pennsylvania PA , Rhode Island RI , South Carolina SC , South Dakota SD , Tennessee TN , Texas TX, Utah UT , Vermont VT , Virginia VA , Washington WA , West Virginia WV , Wisconsin WI , Wyoming WY
Australia [ AU ], Austria, Bahrain, Bangladesh, Barbados, Belarus, Bermuda, Bhutan, Botswana, Brunei Darussalam, Bulgaria, Cayman Islands, Cambodia, China [ CN ], Cyprus, Egypt, Eritrea, Estonia, Ethiopia, Fiji, France [ FR ], Georgia, Germany, Ghana, Greece [ GR ], Hong Kong, Hungary, Iceland, Ireland, Italy [ IT ], Japan, Jordan, Kenya, Latvia, Macao ( China )
Malaysia, Mauritius, Malawi, Mongolia, Morocco, Namibia, Nauru, Nepal, Netherlands [ NL ], New Zealand [ NZ ], Oman, Philippines, Poland, Portugal, Qatar, Romania, Russia, Senegal, Singapore [ SG ], South Africa, Spain, Switzerland, Taiwan, Tanzania, Thailand, Turkey, United Arab Emirates [ UAE ], Ukraine, United Kingdom [ UK]