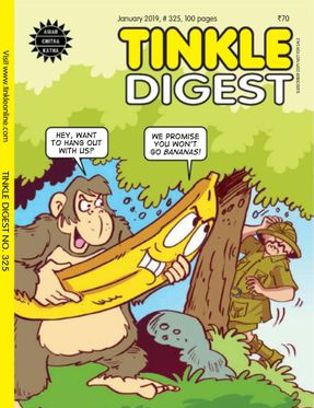 Tinkle Digest Magazine
$8.95 – $103.45
Tinkle Digest January Tuesday 01 2019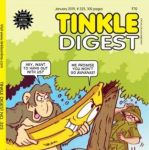 Ram Singh has a debt to repay but no money to do so. When he meets DeenDayal, Clearing a Debt suddenly becomes far simpler. • A magic kettle proves to be more troublesome than helpful when it suddenly turns into an animal! Read on to find out if The Kettle will ever be tamed. • Wicked Bhootnath is determined to capture a ghost. But all the ghosts he encounters turn out to be much trickier than he imagined in Bhootnath and Vetal. • Read the chilling and thrilling tale of Captain Ranveer as he is captured and tortured by enemies. Will his attempts to escape succeed? Find out in Beyond Borders. Also starring: Gangu has a lot of questions. And if you can't answer Gangu's Questions, you'll land in a heap of trouble! The Lady of Stavoren wants to find The Most Precious Thing in the World. But her quest might just put her in grave danger. Butterfingers' class is given a special project. As usual, Butter's antics turn everything topsy-turvy in Butterfingers and the Cactus. Shanti has Shambu hypnotized in the hopes of making him more active. However, things take an unexpected turn in Shikari Shambu and the Hypnotist. Subscription Now
Tinkle Digest December Saturday 01 2018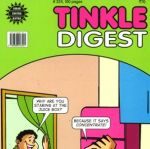 Tinkle Digest November Thursday 01 2018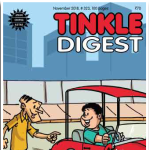 Tinkle Digest October Monday 01 2018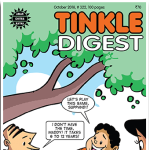 Who is Pyarelal's New Friend and how will they catch the thief who is terrorizing the villagers?
A shepherd consistently disobeys a Russian King's rule about what should be said when he sneezes. Find out how the disobedient shepherd is dealt with in the Expensive Sneeze.
Rohit must go to The Weird Old Lady's house to get his ball back. His friends say she is a witch. What is Rohit walking into! Read on to know what happens.
Pranav's Dadi has taken responsibility for planning and hosting a football tournament victory party. Find out with Pranav and his friends how fun This Party will be!
A mother-in-law takes the easy way out and feeds her son-in-law plain rice since his favourite foods are all rice based. He decides to exact revenge. Know how that ends in Tit for Tat.
Subscription Now
Tinkle Digest September Saturday 01 2018
Tinkle Digest August Wednesday 01 2018

Tinkle Digest July Sunday 01 2018

What's Special? • A bar of chocolate and a fountain pen are enough to land Amar Sen a.k.a butterfingers in a tough spot. Find out what happens when Butterfingers Gets Inked. • Suppandi's very excited about The Elephant Plant he's bought for Rs. 200. Read The Adventures of Suppandi to know more. • Shikari Shambu's holidaying in Mumbai. But his four legged wild feline pals aren't far away. Discover who visits Shambu in Cub Scouts. • Learn how Dasrath Manjhi took on a seemingly tall and proud mountain with relentless labour and a Mighty Will. • Tantri the Mantri has got a horse to get rid of King Hooja. Will he succeed or will he cement Hooja's belief that they're True Friends? Also starring: Take a walk through the woods with Shrikant, Asif, Pia and Madhu to find out if they can be conquered by The Monsters in the Woods. Ina Mina Mynah Mo and their parents are all set for a fun day of relaxation and family time! But can they escape the Picnic Woes? How will The Lazy Couple make a living without standing up or getting up? Prince Abhaya could be the next king of Sumerpur, but only if he passes the reigning King's tests. Will he? Subscription Now
Tinkle Digest June Friday 01 2018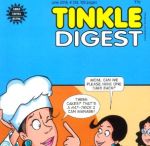 Tinkle Digest May Tuesday 01 2018

Tantri the Mantri longs to be the King of Hujli. Find out in A Matter of Opinion what happens when his dream comes true. Buddhuram tries to take a shortcut to a comfortable life. The outcome is revealed in The Stupid Thief.
Discover How the Dog Came to Stay with Man because of a basket of fresh peas and a dead rat!. Five year-old Nisha's parents and grandmother are on Mission L.K.G Admission. Will it be accomplished? And how?
Also starring:
Accompanying a seven year-old to school should be easy. But if you're Amar Sen a.k.a Butterfingers there may be challenges. Find out how Amar fares as the School Escort. Discover how patience could prevent the loss of 25 litres of milk to The Hasty Manager. Rohit and Ramu may be fed up of the Second Best title, but will they find a way to win the first prize for their last shot at becoming quiz masters?!
A mother is met with jackals on the way to deliver lunch to her son. Then the Jackals Came to Dinner! Join the meal to know more. Subscription Now
Tinkle Digest April Sunday 01 2018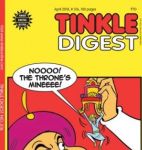 It's Lajwanti's birthday and Pyarelal has been putting a lot of thought into what to get his wife. Take a peek at Home Garden to find out what Pyarelal has in store for Lajjo! • What does a village astronomer and a drought-stricken village have in common? Let's get to the bottom of it in The Rain-Maker. • Mr. Murthy's grandchildren have no faith in his ability to cook. Can Mr. Murthy prove them wrong when he enters a cooking competition? The results are revealed in A Test of Taste Buds. • Amar Sen a.k.a Butterfingers' classmates are excited. The school has a new subject this year… painting. Find out how Amar fares in art class in Butterfingers' Masterpiece. Also starring: What happens when Volmer's magic tricks are called 'silly' during a show, let's find out in The Magician's Revenge. How will a poisonous snake and a prickly thorn teach a sultan and his vazir about change? Know more in Changing with the Times. Doob Doob gives Chamataka a birthday gift with a bang. Surprisingly though Chamataka is not pleased! Find out why, in Kalia the Crow. Tantri the Mantri is after Hooja's throne again, only this time there's a leopard involved. Subscription Now
Tinkle Digest March Thursday 01 2018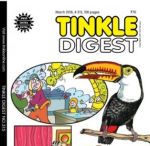 King Rajendrarajan only eats dosas. But will a sudden stomach ache change his preference? Find out in The Idlis of the King.
Adventures galore await Janoo and Wooly Woo when Jilly Seal Makes a Wish to spend a day as a human.
Someone's stolen the king's precious gold coins! It's time You Be the Detective and solve the mystery of A Story of Six Pence!
Dr. Angora has some evil plans for The Disintegrating Machine. Will Tamara and her uncle Dr. Venugopal manage to stop him in time?
Also starring:
The Brave Boy faces off with a wild gorilla. Find out who wins!
What can the river do to free the jackal of fleas? Find out in The Jackal and the Fleas.
It is difficult making friends in a new school. Learn from Kavish how to overcome being The Nobody.
Ammu and Anand are the stars of the school play. But what will happen when their good luck takes a Hairpin Bend? Subscription Now
Description
Buy (Order online) Tinkle Digest Monthly Magazine (Magasin) Now.
Tinkle Digest Monthly Magazine January 2019 Issue: Ram Singh has a debt to repay but no money to do so. When he meets DeenDayal, Clearing a Debt suddenly becomes far simpler. • A magic kettle proves to be more troublesome than helpful when it suddenly turns into an animal! Read on to find out if The Kettle will ever be tamed. • Wicked Bhootnath is determined to capture a ghost. But all the ghosts he encounters turn out to be much trickier than he imagined in Bhootnath and Vetal. • Read the chilling and thrilling tale of Captain Ranveer as he is captured and tortured by enemies. Will his attempts to escape succeed? Find out in Beyond Borders. Also starring: Gangu has a lot of questions. And if you can't answer Gangu's Questions, you'll land in a heap of trouble! The Lady of Stavoren wants to find The Most Precious Thing in the World. But her quest might just put her in grave danger. Butterfingers' class is given a special project. As usual, Butter's antics turn everything topsy-turvy in Butterfingers and the Cactus. Shanti has Shambu hypnotized in the hopes of making him more active. However, things take an unexpected turn in Shikari Shambu and the Hypnotist.
Tinkle Digest is committed to bringing children the funniest and the most thrilling stories. Filled with the most recognizable Indian comic characters, from Suppandi to Shikari Shambu, from Kalia the Crow to the Defective Detectives, The Magazine also features new work by some of India's most exciting writers and artists for children. And that's not all! Each issue comes with loads of knowledge pages, facts and value education. The perfect size to read anywhere, TinkleDigest will never disappoint.
TinkleDigest Monthly Magazine prices are inclusive of shipping and handling through USPS. (for US deliveries). For other Countries shipping will be handled through their Postal Services (like Airmail in India). Address for delivery (Subscription) can be changed anytime. Please mail us the changed address details to info@magazinesemporium.com.
Tinkle Digest Monthly Magazine subscriptions will commence either from current issue or from next coming issue. The Monthly English Magazine will be shipped immediately on getting the issues from the publisher. They are inclusive of Diwali and Annual issues. Any special issues will also be sent free.
Subscribe weekly/monthly/yearly magazines - We ship to USA [ United States ], Alabama AL , Alaska AK , Arizona AZ , Arkansas AR , California CA , Colorado Co , Connecticut CT , Delaware DE , Florida FL , Georgia GA , Hawaii HI , Idaho ID , Illinois IL , Indiana IN , Iowa IA , Kansas KS , Kentucky KY , Louisiana LA , Maine ME , Maryland MD , Massachusetts MA , Michigan MI , Minnesota MN , Mississippi MS , Missouri MO , Montana MT , Nebraska NE , Nevada NV , New Hampshire NH , New Jersey NY , New Mexico NM , New York NY , North Carolina NC , North Dakota ND , Ohio OH , Oklahoma OK , Oregon OR , Pennsylvania PA , Rhode Island RI , South Carolina SC , South Dakota SD , Tennessee TN , Texas TX, Utah UT , Vermont VT , Virginia VA , Washington WA , West Virginia WV , Wisconsin WI , Wyoming WY
Australia [ AU ], Austria, Bahrain, Bangladesh, Barbados, Belarus, Bermuda, Bhutan, Botswana, Brunei Darussalam, Bulgaria, Cayman Islands, Cambodia, China [ CN ], Cyprus, Egypt, Eritrea, Estonia, Ethiopia, Fiji, France [ FR ], Georgia, Germany, Ghana, Greece [ GR ], Hong Kong, Hungary, Iceland, Ireland, Italy [ IT ], Japan, Jordan, Kenya, Latvia, Macao ( China )
Malaysia, Mauritius, Malawi, Mongolia, Morocco, Namibia, Nauru, Nepal, Netherlands [ NL ], New Zealand [ NZ ], Oman, Philippines, Poland, Portugal, Qatar, Romania, Russia, Senegal, Singapore [ SG ], South Africa, Spain, Switzerland, Taiwan, Tanzania, Thailand, Turkey, United Arab Emirates [ UAE ], Ukraine, United Kingdom [ UK]