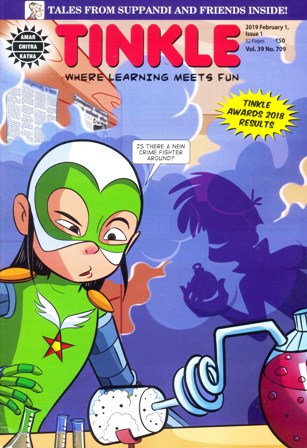 Tinkle Magazine
$8.95 – $102.45
Tinkle February Friday 01 2019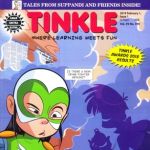 Tinkle January Wednesday 16 2019
Tinkle January Tuesday 01 2019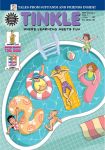 Welcome 2019 with a brand new Tinkle issue!
Cover concept by Ritu Mahimkar and super cool cover art by Vineet Nair and Varda Kumrotkar! Subscription Now
Tinkle December Saturday 15 2018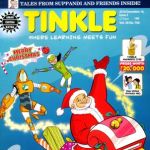 Tinkle December Saturday 01 2018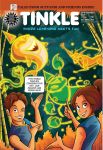 Tinkle November Friday 16 2018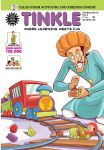 Tinkle November Thursday 01 2018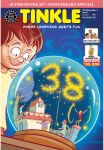 Light up your November with the Tinkle's Anniversary issue!
Brilliant cover concept by Rajani Thindiath and dazzling cover art by Vineet Nair! Subscription Now
Tinkle October Monday 15 2018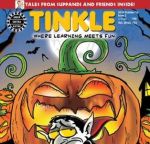 What's Special? Get ready for chills and thrills with this new Tinkle issue! • Miserly Jagannath has turned into a spendthrift overnight. Get to the bottom of this mystery on Observe the Moon Night in Ina Mina Mynah Mo: If Only! • This Halloween, visit a haunted Rajasthani village with Sadiq and his sister in Thrillers: A Taxing Terror. • All Ramaa wants for Vijayadashmi is peace and quiet. But with the ruckus at home how will she find Some Me Time? • A brand new ghost awaits Buchki during Durga Puja. Will she manage to face this ghost's Smoky Shenanigans?
• What's Halloween without spooky decorations? With our simple Do-It-Yourself activity learn to make your very own Balloon Pumpkin. • Halloween won't be complete without a healthy helping of undead creatures. So join Billy Drain and his family in celebrating A Hairy Halloween! • Continue the festival of fear with fun and exciting puzzles in Pic(k) Your Brains! Also Starring: It's time to announce the Tinkle Squad Champs. Meet the Tinkle Squad's top scorers and take a peek at the exciting prizes that await them! Subscription Now
Tinkle October Monday 01 2018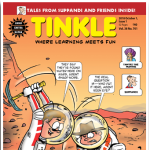 What's Special? Jump with joy because another hilarious Tinkle issue is hopping your way! • Spend this International Day for Older Persons with Sherwin's grandma in A Bunch of Toads. Think you'll be bored? Ha! This grandma is trickier than she looks. • Tantri is taking an animal-obsessed Hooja on A Wild Ride for Wildlife Week. But will it be a happy journey for this wily minister?
• This World Space Week join the Defective Detectives as they solve another loony case in Lunatics! • Unleash your inner artist and writer in the exciting Tinkle GagStar Contest! Prizes worth Rs. 25,000 to be won! Also Starring: Tag along with MacEachern as he goes in Search of a Son. Visit a haunted village with Sadiq and his sister in Thrillers: A Taxing Terror. Help Prayelal fix the problem of waste pencil stubs in Stub It Out! And discover what came first, the Chicken or the Egg with the Know-It-Alls Sam and Mynah. Subscription Now
Tinkle September Saturday 15 2018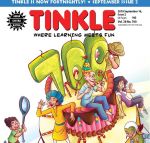 Tinkle's 2nd issue is sailing in now! 700th Issue, super exciting offers Subscription Now
Tinkle September Saturday 01 2018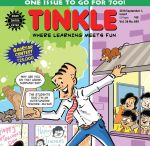 Tinkle August Wednesday 15 2018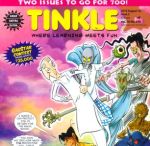 Tinkle August Wednesday 01 2018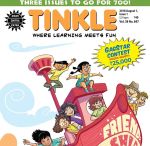 Tinkle's 1st issue is sailing in now! Gagster prizes of 25,000. Get your copy and catch the waves of fun! Exciting cover concept by our Editor-in-Chief, Rajani Thindiath, and fantabulous art by Vineet Nair Subscription Now
Description
Buy (Order online) Tinkle Fortnightly Magazine (Magasin) Now.
Tinkle Fortnightly Magazine prices are inclusive of shipping and handling through USPS. (for US deliveries). For other Countries shipping will be handled through their Postal Services (like Airmail in India). Address for delivery (Subscription) can be changed anytime. Please mail us the changed address details to info@magazinesemporium.com.
Tinkle Fortnightly Magazine February First Week 2019 Issue:
Tinkle is a Fortnightly English-language comics magazine for children and for the young-at-heart. Home to popular evergreen toons such as the ever-unemployed goof Suppandi, the hunter-turned-conservationist Shikari Shambu, the power-hungry vizier Tantri the Mantri, and the witty do-gooder Kalia the Crow, Tinkle has had a story for everyone for the last 35 years. Comics, being a visually appealing medium, is the best way to introduce children to reading. Tinkle makes sure that it showcases stories across all genres—from humour to social drama to adventure and fantasy—to ensure that each reader finds something interesting, that will lead them to explore more books of that genre.
Tinkle's latest venture into the superhero-action genre, the series WingStar, has garnered much praise across the country. A 2013 study conducted by a research team at the University of Oklahoma shows that comics help in better memory retention. Mr. Anant Pai and Mr. Subba Rao, guessed this secret in 1980, and founded Tinkle. Since then, the magazine has stayed true to its tagline, 'Where Learning Meets Fun'. Besides captivating stories, it boasts a vast repertoire of informative features, analytical and visual puzzles, vocabulary building games, and fun-based science columns that are not only great knowledge boosters but also tremendous help during school projects**.
Tinkle also nurtures the creativity and individuality of its readers by publishing their stories, poems, artwork and opinions in the magazine. In fact, in the recent 35th Anniversary issue, almost all the stories were sourced from the readers! Awards and Accolades: India's only All-Comics Magazine for Children – Limca Book of Records Winner of Best Publication for Children Award – Comic Con India Recognition for Special Contribution to Indian Comics over 30 years – Comic Con India (Home to) The 'Best Continuing Graphic Series', Dental Diaries, the comically horrifying saga of a fangless vampire – Comic Con India **As per reader feedback .
Tinkle Fortnightly Magazine subscriptions will commence either from current issue or from next coming issue. The Fortnightly English Magazine will be shipped immediately on getting the issues from the publisher. They are inclusive of Diwali and Annual issues. Any special issues will also be sent free.
Subscribe weekly/monthly/yearly magazines - We ship to USA [ United States ], Alabama AL , Alaska AK , Arizona AZ , Arkansas AR , California CA , Colorado Co , Connecticut CT , Delaware DE , Florida FL , Georgia GA , Hawaii HI , Idaho ID , Illinois IL , Indiana IN , Iowa IA , Kansas KS , Kentucky KY , Louisiana LA , Maine ME , Maryland MD , Massachusetts MA , Michigan MI , Minnesota MN , Mississippi MS , Missouri MO , Montana MT , Nebraska NE , Nevada NV , New Hampshire NH , New Jersey NY , New Mexico NM , New York NY , North Carolina NC , North Dakota ND , Ohio OH , Oklahoma OK , Oregon OR , Pennsylvania PA , Rhode Island RI , South Carolina SC , South Dakota SD , Tennessee TN , Texas TX, Utah UT , Vermont VT , Virginia VA , Washington WA , West Virginia WV , Wisconsin WI , Wyoming WY
Australia [ AU ], Austria, Bahrain, Bangladesh, Barbados, Belarus, Bermuda, Bhutan, Botswana, Brunei Darussalam, Bulgaria, Cayman Islands, Cambodia, China [ CN ], Cyprus, Egypt, Eritrea, Estonia, Ethiopia, Fiji, France [ FR ], Georgia, Germany, Ghana, Greece [ GR ], Hong Kong, Hungary, Iceland, Ireland, Italy [ IT ], Japan, Jordan, Kenya, Latvia, Macao ( China )
Malaysia, Mauritius, Malawi, Mongolia, Morocco, Namibia, Nauru, Nepal, Netherlands [ NL ], New Zealand [ NZ ], Oman, Philippines, Poland, Portugal, Qatar, Romania, Russia, Senegal, Singapore [ SG ], South Africa, Spain, Switzerland, Taiwan, Tanzania, Thailand, Turkey, United Arab Emirates [ UAE ], Ukraine, United Kingdom [ UK]