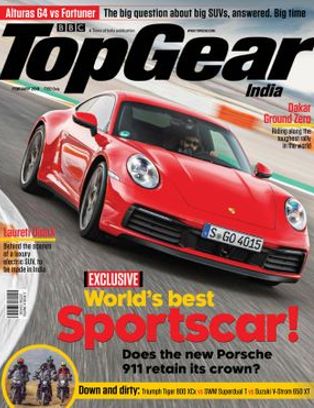 Top Gear Magazine
$20.95 – $247.45
Top Gear February Friday 01 2019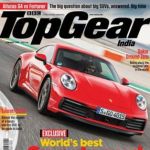 This issue, we've got an exclusive drive of the new Porsche 911. Can it hold on to the title of world's best sportscar? We've got some answers. Given the lovely weather across the country, we also went adventuring, in a variety of vehicles. There was the Suzuki V-Strom 650, SWM Superdual T and Triumph Tiger 800XCx, big adventure bikes that went along to the countryside with us. Then there was the Alturas G4, Mahindra's answer to the long-reigning Toyota Fortuner. These two full-size premium SUVs battled it out with a lot of dust thrown up in the fray. There was also the Triumph Scrambler 1200, a small but definitely potent machine. And while the Indian countryside was already brimming with us, we also went to the far shores of Peru to catch the world's toughest rally playing out, the 2019 edition of the Dakar. Thrill of different calibre, that. In the middle of all this, there's something else really big brewing right here at home. If you haven't heard the name Laureti, you soon will. This small company has big ambitions. They're making an all-electric luxury SUV called the DionX. And it's all going to be built right here. All this and a lot more in the February 2019 issue of TopGear India. Subscription Now
Top Gear January Tuesday 01 2019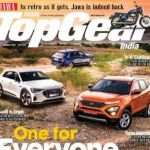 To start off the year, we've got a whole bunch of India's favourite cars ¬– SUVs. That's right, from the ultimate in luxury such as the Rolls-Royce Cullinan and Maserati Levante Trofeo to the evolutionary new Mercedes GLE. There's also the homegrown Tata Harrier to keep the Indian flag flying high. Of course, even with SUVs, how far can electrification be? We've also gotten behind the wheel of the SUV of the future — the Audi e-tron.
That's not all. There's a big comeback in the two-wheeler world. Jawa Motorcycles is here and they've kept up with the times and how. Triumph's updates for the Street Twin and Scrambler look pretty promising too and BMW's G 310 GS seems like a potent adventurer. We also made a couple of interesting visits. The Bentley factory in Crewe, UK, was a revelation in how legends are given form by hand and a private collector's museum housing over 200 Datsun and Nissan cars all the way in South Africa was an absolute delight. All this and a lot more in the January 2019 issue of BBC TopGear India. Subscription Now
Top Gear December Saturday 01 2018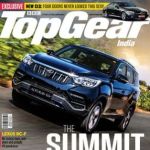 As 2018 draws to a close, we've got a smashing issue to finish the year. On the cover is Mahindra's new premium SUV. It's a space the homegrown manufacturer hasn't explored before but with the Alturas, it looks like they've got the right product to make an impression. We also have an exclusive with the new Mercedes CLS. The classy sedan in a coupe shape is back to impress. It's got a smaller heart but by no means is it a slouch. Then there are the Volvo S60, the Lexus RC-F, the Ducati Multistrada 1260, the Mini Countryman and the Bentley Continental GT. Phew. A lot of astounding machines for the year-end. We've also driven the 2.0-litre Jaguar F-Type, the Range Rover Sport, the VW Touareg and T-Roc, the Datsun Go and Go+, and even welcomed SWM's SuperDual T to India. That's not all, there's two different MotoGP races we attended and went and had a look at the headquarters of MG, the iconic brand which is all set to enter the Indian market. There's Mahindra's automotive sector boss Rajan Wadhera too, in a candid chat with us about the Marazzo, BS VI, and the use of alternate sources of energy here. Catch all this and a lot more in TopGear India's December 2018 issue. Subscription Now
Top Gear November Thursday 01 2018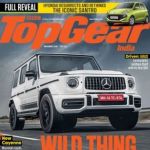 Porsche Cayenne Turbo It may look like the old one, but the third-gen SUV is better in every way. Royal Enfield Twins The RE twins have attracted a lot of attention. But are they worth it? Mercedes-AMG G63 The all-new G63 is lighter, faster and more feature-rich than before. Subscription Now
Top Gear October Monday 01 2018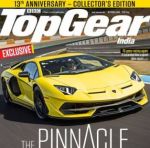 It's celebration time as TopGear India completes 13 years in circulation. We're super excited about this landmark and have brought together an eclectic collection of cars and motorcycles for you to enjoy. They're all the best of the best at what they do. The big highlight? It's the Lamborghini Aventador SVJ which we got our hands on at the Estoril track in Portugal. It's a big, brawny, hairy-chested Lambo with an added dose of testosterone. From mad fast racing machines to ultimate luxury. We also had the new Range Rover LWB and the Mercedes-Maybach engage in a gentleman's duel. Then there were the estates, the Volvo V90 Cross Country and the Mercedes E-Class All Terrain, battling it out for supremacy. And since it's ultimates we're dealing in, there's also a mad RFC-contesting off-roader, the ultimate adventure bike, a Triumph Tiger 800 which we took to the Himalayas to thrash around and the ultimate enduro, the Suzuki RMX450Z. Oh, we also had a tryst with Jeep's famed Rubicon trail in the US. Don't worry, it's not all just celebrations, there's the usual practical stuff too. We've driven the new Honda CR-V, Land Rover Discovery Sport petrol, the Mitsubishi Outlander, the Mahindra Marazzo, the Kawasaki Ninja 400, the Ducati Scrambler 1100, Lexus ES 300h and the Jaguar Project 8. We also went racing on a Suzuki, rode around on an electric bicycle from Tronx and got some pearls of wisdom from Ducati's India boss and the sporting director of McLaren Racing. There's tonnes to enjoy this anniversary. Subscription Now
Top Gear September Saturday 01 2018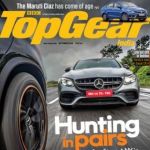 The Maruthi Ciaz has come of age, Hunting in Pairs Atale of two AMGs – E63S & GLE 43 Orange Art, New Jeep Wrangler, 2018 Range Over, Audi RS6 Performance, BMW Motoroad G310 Subscription Now
Top Gear August Wednesday 01 2018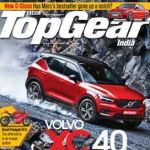 As the monsoon tightens its grip on the subcontinent, this month, we've gone adventuring in some of the latest SUVs to arrive on our shores. There's a Volvo XC40 that made its way into the treacherous terrain of the Himalayas while the E Class All Terrain had a chance to prove its name on the Western Ghats. When it comes to adventuring, of course, how can we leave out our two-wheeler friends? So, there's a Triumph Speedmaster which we took to Udvada in Gujarat and a Ducati Panigale V4 S which we blazed around the Sepang track. There was also a bit of a skirmish, involving the Suzuki Gixxer and the TVS Apache RTR 160 4v. Aside from these exciting features, there are also the usual drives and rides. There's the new C Class and its AMG-treated C43 version, the Hyundai Tucson AWD, the Audi Q5 petrol, the MV Agusta Brutale 800 RR and the Harley-Davidson Softails. We also got a close look at some of the finest automobiles in the world (both current and historic ones) at the Goodwood Festival of Speed. Of course, there's more to read and enjoy. Pick up the August 2018 issue today. Subscription Now
Top Gear July Sunday 01 2018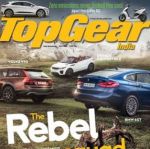 BMW 6GT It's got presence, and the dynamics to match it. We're impressed. Ather 450 A homegrown electric scooter that is actually desireable. RR Evoque Convertible Who needs an SUV without a roof? No one, really, but it exists! Subscription Now
Top Gear June Friday 01 2018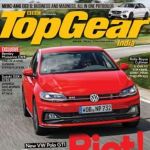 It's gotten red hot this month, as may be apparent from our cover. It's the hot hatch we've had a soft corner for, in its next avatar. The new Volkswagen GTI is bigger and faster, mouthwateringly so. We wait with bated breath for when it gets here. Time for a little bit of sophistication, so we hopped into a one-of-its-kind Bentley and took a peek at a new giant among luxury behemoths, the Rolls-Royce Cullinan. And for those of you like the best of both worlds, a little bit of madness to go along with some business, we had the Mercedes-AMG E63 S, one of the craziest four-door sedans we've laid hands on. Sensible friends, fear not, we've got you covered too. There's the new Toyota Yaris pitched against the Hyundai Verna and Honda City in an all-out practicality match. On two wheels, there's the Japanese dive-bomber, the Suzuki GSX-S750 and Harleys down the streets of Croatia. Of course, we've got tonnes more for your exclusive enjoyment in the TopGear India June 2018 issue.
Subscription Now
Top Gear May Tuesday 01 2018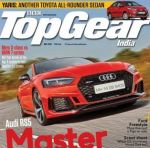 Summer is on in full earnest and things are scorching hot. Speaking of which, we got things properly boiling with the new Audi RS5. It's lost some cylinders but has upped drama and boy, is it a hoot to drive. There's another contender for drama this month – the Thar Wanderlust. It's a customised Thar which could intimidate anybody with its tough styling. So we took it far away from people and into the wild to unleash its true potential. But it's not just the over-the-top drama queens that got attention. We also took the rather unassuming Skoda Octavia vRS and pit it against a wide range of cars. From hot hatchbacks to Grand Tourers. Why? Well, because we can. For our younger readers, those who've just about stepped into the wonderful world of riding, we've got a fun competition between three very capable and peppy scoots. Find out which one you should be begging your parents for. And away from all the hustle and bustle of the common rag-tag, there are two flagship sedans. Sophisticated, luxurious, brimming with tech, the Merc S-class and BMW 7-series engage in a gentlemen's duel. We've also got the usual slew of drives and rides this month. From the new Toyota Yaris, Ford Freestyle and BMW 6 GT to the Mahindra XUV500, the Yamaha R15 and the Jaguar F-Type SVR. We also get chatting with a new electric vehicle player who may have just found the solution to viable mobility solutions. All this and a lot more in the May issue. Subscription Now
Top Gear April Sunday 01 2018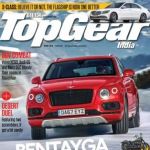 Summer's just about setting in and we've got some hot, hot stories for you. The V8-equipped Bentley Bentayga is a cracker of an SUV and we've got an exclusive drive. There's also a dusty battle in the little Rann of Kutch between the Ducati Desert Sled and the Triumph Street Scrambler. Then, three premium SUVs, the Audi Q5, Volvo XC60 and Mercedes GLC get in a brawl over some mixed terrain. Adventurous spirits that we are, adventure bikes are a mouthwatering proposition for us. So we also took the Kawasaki Versys and the Royal Enfield for a little gambol across wild country. We also drove the self-proclaimed "best car in the world", the new Mercedes S-Class, to see how high it can set the bar this time around and we weren't disappointed. To cool things down a bit, we also took some Skodas sliding around on ice. That's not all, there's also a glimpse at what was on offer at the Geneva motor show and on the sidelines, we caught up with the legendary Chris Bangle as he spoke to us about his latest brainchild. All this and a lot more in the April 2018 issue of TopGear India. Subscription Now
Top Gear March Thursday 01 2018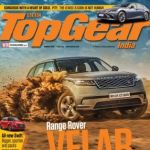 Description
Buy (Order online) Top Gear Monthly Magazine (Magasin) Now.
Top Gear Monthly Magazine prices are inclusive of shipping and handling through USPS. (for US deliveries). For other Countries shipping will be handled through their Postal Services (like Airmail in India). Address for delivery (Subscription) can be changed anytime. Please mail us the changed address details to info@magazinesemporium.com.
Top Gear Monthly Magazine February 2019 Issue : This issue, we've got an exclusive drive of the new Porsche 911. Can it hold on to the title of world's best sportscar? We've got some answers. Given the lovely weather across the country, we also went adventuring, in a variety of vehicles. There was the Suzuki V-Strom 650, SWM Superdual T and Triumph Tiger 800XCx, big adventure bikes that went along to the countryside with us. Then there was the Alturas G4, Mahindra's answer to the long-reigning Toyota Fortuner.
These two full-size premium SUVs battled it out with a lot of dust thrown up in the fray. There was also the Triumph Scrambler 1200, a small but definitely potent machine. And while the Indian countryside was already brimming with us, we also went to the far shores of Peru to catch the world's toughest rally playing out, the 2019 edition of the Dakar. Thrill of different calibre, that. In the middle of all this, there's something else really big brewing right here at home. If you haven't heard the name Laureti, you soon will. This small company has big ambitions. They're making an all-electric luxury SUV called the DionX. And it's all going to be built right here. All this and a lot more in the February 2019 issue of TopGear India.
BBC Top Gear Magazine India is the country's most exciting automobile magazine, bringing you up-to-date news, drives and rides with the latest launches in the market, stunning features, witty and humorous content along with a complete buyer's guide covering the cars and bikes available in the Indian market. Taking inspiration from the BBC TopGear show, it is just as engaging a read. Being the largest automotive media brand in the world, BBC TopGear Magazine is present in over 40 countries and has over 350 million viewers worldwide. The Indian edition was launched in September 2005 and has since been the fastest growing motoring magazine which has re-invented the way automotive journalism works in the country.
Top Gear Monthly Magazine subscriptions will commence either from current issue or from next coming issue. Top Gear Monthly Magazine English Magazine will be shipped immediately on getting the issues from the publisher. They are inclusive of Diwali and Annual issues. Any special issues will also be sent free.
Subscribe weekly/monthly/yearly magazines - We ship to USA [ United States ], Alabama AL , Alaska AK , Arizona AZ , Arkansas AR , California CA , Colorado Co , Connecticut CT , Delaware DE , Florida FL , Georgia GA , Hawaii HI , Idaho ID , Illinois IL , Indiana IN , Iowa IA , Kansas KS , Kentucky KY , Louisiana LA , Maine ME , Maryland MD , Massachusetts MA , Michigan MI , Minnesota MN , Mississippi MS , Missouri MO , Montana MT , Nebraska NE , Nevada NV , New Hampshire NH , New Jersey NY , New Mexico NM , New York NY , North Carolina NC , North Dakota ND , Ohio OH , Oklahoma OK , Oregon OR , Pennsylvania PA , Rhode Island RI , South Carolina SC , South Dakota SD , Tennessee TN , Texas TX, Utah UT , Vermont VT , Virginia VA , Washington WA , West Virginia WV , Wisconsin WI , Wyoming WY
Australia [ AU ], Austria, Bahrain, Bangladesh, Barbados, Belarus, Bermuda, Bhutan, Botswana, Brunei Darussalam, Bulgaria, Cayman Islands, Cambodia, China [ CN ], Cyprus, Egypt, Eritrea, Estonia, Ethiopia, Fiji, France [ FR ], Georgia, Germany, Ghana, Greece [ GR ], Hong Kong, Hungary, Iceland, Ireland, Italy [ IT ], Japan, Jordan, Kenya, Latvia, Macao ( China )
Malaysia, Mauritius, Malawi, Mongolia, Morocco, Namibia, Nauru, Nepal, Netherlands [ NL ], New Zealand [ NZ ], Oman, Philippines, Poland, Portugal, Qatar, Romania, Russia, Senegal, Singapore [ SG ], South Africa, Spain, Switzerland, Taiwan, Tanzania, Thailand, Turkey, United Arab Emirates [ UAE ], Ukraine, United Kingdom [ UK]